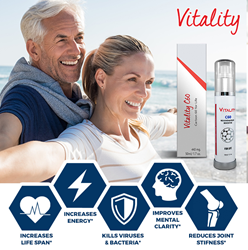 Ward now has regained his old lifestyle back without the need of surgery and medication and could not be happier, "
MISSION, British Columbia (PRWEB) July 29, 2019
Brad Ward of Mission, British Columbia could barely move his left shoulder and wrist without experiencing severe pain until he began taking a daily dose of C60 in May of 2019.
"I've always pushed my body and I've always worked physically my whole life, and my injuries really slowed me down. I can't believe how much my pain has alleviated - it's amazing to me. I'm remembering what it feels like to have a shoulder again," says Ward.
C60 is an entirely non-toxic and naturally derived carbon molecule that is claimed by scientists to be the strongest antioxidant known to man, winning a Nobel Prize in 1996. When properly dispersed into olive oil, C60 has the ability to alleviate injury pain by absorbing the damaging free radicals and encouraging the regeneration of new, healthy cells. Vitality C60 contains only two ingredients:99.95% pure C60 and extra virgin olive oil.
Since beginning his journey with Vitality C60, Ward has made a miraculous recovery from injuries that doctors claimed were only able to be fixed through intensive ligament repair surgery. Ward now has regained his old lifestyle back without the need of surgery and medication and could not be happier, "I cannot emphasize how much more active I've become as a result of C60," says Ward, "I'm way more optimistic about my future and where my life is going now. I don't feel any pain anymore, it's been a profound experience for me."
Kassandra Chiarello
Public Relations Associate
kassandra@allureimports.com
(519) 500-7432
About Allure Imports: Headquartered in Sault Ste. Marie, Michigan, Allure Imports is a distribution company who sources innovative and unique products around the globe to make them available for purchase within the North American market. Through careful consideration and deliberation, Allure Imports chooses only the highest quality products to distribute to customers across the continent. The most recent addition to their product line includes a C60 oil called VitalityC60, the latest breakthrough within the wellness industry that is considered to be the most effective longevity and anti-ageing solution ever discovered. To read more about VitalityC60, please visit their website at https://vitalityc60.com