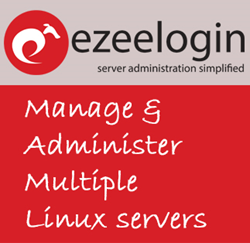 Enterprises,datacenters, hosting companies running multiple Linux servers and having many staff to manage them,can easily integrate two factor solutions such as Google and Yubikey to secure SSH user access to business critical Linux servers.
Las Vegas,NV (PRWEB) October 01, 2014
Linux server management,administration and automation software ezeelogin integrates Google two factor authentication and Yubikey, a secure USB Authentication Device for bringing in an additional layer of security for system administrators accessing Linux servers via SSH Clients ( secure shell ). Enterprises,data centers, and hosting companies with Linux servers and many employees to manage them, can now incorporate two factor solutions out of the box to secure Linux servers thus bringing the security measures on par with the stringent security standards followed by the online banking portals.
Linux system administrators can now install the Google Authenticator app on Android and IOS smartphones to generate the time based tokens for authentication. The Yubikey offers a more convenient way of entering the security tokens with just a tap on the device making it the faster option of the two.
"Adding Google two factor authentication and Yubikeys into Ezeelogin's two factor authentication arsenal has increased the security of the Linux servers that it manages. Securing ssh access ( secure shell ) to Linux servers with Google OTP ( one time passwords ) and Yubikey OTP was a major milestone that was achieved. Most companies now have their employees working remotely from their homes and the company has no control on their desktops security. It was important that we introduced two factor authentication as quickly as possible to ensure that access to the Linux servers does not fall into wrong hands" said Sunjith P.S, CTO, Ezeelogin.
Linux hosting and cloud based companies are increasingly looking for different ways to secure, monitor and control access to multiple Linux servers when employees today are increasingly working from the comforts of their home or telecommute to work. The new work styles introduced new security challenges and two step verification emerged as the favourite solution to rise up to the challenge and is being increasingly integrated in ssh. Ezeelogin helps companies to quickly deploy the latest in two factor technology.Two-factor authentication provides an extra layer of security and is often mandatory for PCI compliance with regulations.
About Ezeelogin
Ezeelogin is a multiple Linux server management, administration and automation software to organize, manage,secure and administer multiple Linux servers easily, efficiently and securely. Features like, parallel shell SSH client, SSH user access control, clustered SSH gateway with live replication and automatic synchronisation after a node failure , parallel copy, logging and monitoring full keystrokes and output of users SSH sessions, password-less control panel access, automated password resets improves the work efficiency managing many Linux servers.
What is a YubiKey?
The first driverless, secure USB Authentication Device enabling strong, easy-to-use and affordable two-factor authentication with one-time passwords. Refer Yubico.com for more details.