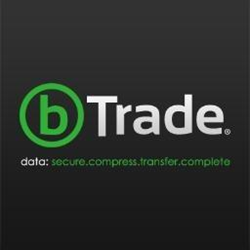 "Revenue, cash and profit have all increased on a solid basis in 2013," notes Steve Zapata, President and CEO of bTrade.
Glendale, CA (PRWEB) February 27, 2014
bTrade, the industry leading secure file transfer, compression and managed file transfer(MFT) solution provider, today announced strong financial results for full-year 2013 which ended December 31, 2013. The company continues to execute its growth strategy through ongoing deployment and success of its next-generation managed file transfer solution, secureXchange. The company also experienced strong, sustained sales of its TD solutions, which have maintained their position as the most trusted encryption and compression solutions in the industry.
The result has been strong financial growth, both top-line revenue and bottom-line net income, and strong cash flows that has led to further investment in new capabilities, research and development, as well as increased hiring of strategic individuals for the company.
2013 Financial Highlights Include:

11% revenue growth in 2013 over 2012
5% increase in net income in 2013 over 2012
Operating margins remained strong and increased 53% in 2013
Software license revenue grew at 126% in 2013 with gross margins at 87%
Heavy dollar investment in research and development activities in 2013
Achieved the high-end of Adjusted EBITDA target at 51%
Strong and increased recurring revenue streams generating strong cash flow
Cash-on-hand continues to be very strong with cash reserves doubling in 2013
Doubling of top-line revenue and bottom-line net income since 2010
2013 Business Highlights Include:
secureXchange 4.0 – bTrade's Next-Generation Managed File Transfer Technology:
bTrade has continued to execute its growth strategy through the ongoing deployment and success of our next-generation managed file transfer solution, secureXchange. secureXchange 4.0 was designed to meet the critical and changing needs of the managed file transfer market, and more importantly, the demand from customers for a solution that is easy-to-use, deploy and operate, while also affording full governance, compliance, mitigated risk and transparency.
99.7% Rating for Customer Satisfaction Excellence:
In the fall of 2013, bTrade released the results of a customer satisfaction survey aimed at measuring customer experiences and perception of bTrade, as well as our software and services. We were pleased with the results of the survey, as respondents rated their bTrade experience as extremely positive with a 99.7% rating for customer satisfaction excellence. It was extremely gratifying to receive this recognition from our customers. Our investment in the development of our people to deliver the best customer experience, from designing and implementing holistic managed file transfer technology solutions, to managing and optimizing these investments over time, is paying off in a big way for our customers.
Continued Expansion of a Strategic Partnership with ATEB Servicios de Mexico:
bTrade continues to launch managed file transfer solutions in the Mexican and Central American markets. The joint partnership has made it easy for companies to exchange files, quickly, securely and cost-effectively, across all major platforms—both within the walls of the enterprise and outside of it.
Minority Business Enterprise (MBE) Certification:
bTrade met the criteria needed for re-certification as a "Minority Business Enterprise," as established by the National Minority Supplier Development Council (NMSDC), and was approved by the Board of Directors of the Southern California Minority Business Development Council (SCMBDC). The nearly 200 corporate members of NMSDC and SCMSDC represent a Who's Who in Corporate America.
2013 New and Expanded Customer Achievements:
Banking Industry: bTrade enabled over 425 new customers utilizing bTrade TD technology on multiple platforms (Z/os, Linux, Solaris and Windows) in all the world's geographies—Americas, Europe/Middle East/Africa and Asia Pacific.
Engineered and deployed a compression/encryption solution for a Fortune 50 multinational consumer product goods company in connection with its treasury functions worldwide.
Created and installed a file transfer gateway solution for a consortium of international banking and financial institutions utilizing bTrade's upgraded TD solutions.
A major reservations company upgraded to secureXchange technology giving its 1000+ trading community enhanced functionality related to the airline industry.
Expanded bTrade's existing licenses and added new licenses within several Canadian provincial governments to include broader use of TDCompress.
Closed a significantly large agreement with an existing entertainment customer to increase its secureXchange user base.
Travel/Tourism customer acquired an enterprise license for TDAccess v.3.2 to be used in transmitting data internally and with all of its global business partners.
"Our performance was very solid for full-year 2013 and continues to validate our on-going fundamental strategy and vision for managed file transfer and compression solutions and services provided by us for large enterprises and their respective trading communities," notes Steve Zapata, President and CEO of bTrade. Mr. Zapata added: "Revenue, cash and profit have all increased on a solid basis in 2013. This is validation that our customers continue to seek out bTrade solutions which will allow them to be more competitive and deal with requirements and needs in the secure file transfer environment that are posed to them on a daily basis. I am confident that bTrade will continue to allow our customers, worldwide, to improve their business-to-business effectiveness and efficiency with their valued customers going forward."
About bTrade
bTrade develops secure file transfer and managed file transfer technology solutions for enterprises that share sensitive data across applications and organizations, and face complex security and compliance mandates. Thousands of customers depend on bTrade's secure file transfer solutions to gain control and oversight of the movement of critical corporate data to facilitate data growth, reduce security risk, and improve IT and business efficiency. The company was founded in 1990 and is led by eBusiness visionaries who have delivered industry-leading business integration solutions to thousands of enterprise customers worldwide. bTrade is privately held and profitable with its global headquarters located in Glendale, California USA.
For more information on managed file transfer solutions and services, please visit http://www.bTrade.com.