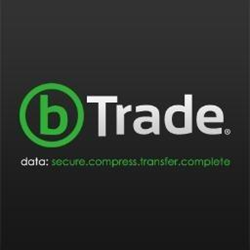 bTrade will exhibit and have its solution experts on-hand to showcase TDXchange, bTrade's secure, full-featured MFT solution
Glendale, CA (PRWEB) November 05, 2014
bTrade, the industry leading compression and managed file transfer (MFT) provider, today announced that it will be exhibiting at the Data Connectors Tech-Security Conference taking place on November 12, 2014 in Schaumburg, Illinois. This one-day conference will feature keynotes and presentations covering a variety of data security issues, including email security, authentication and threat monitoring/detection.
bTrade will exhibit and have its solution experts on-hand to showcase TDXchange, bTrade's secure, full-featured MFT solution. Visitors can learn how TDXchange can help their organizations secure transmissions of critical data, even if it is sent via email. With the help of TDXchange, a user can send attachments, including large files, in the form of an URL without using the SMTP protocol of the web server. This reduces the chances of email bounces and ensures the intended recipients receive the email along with a link to the attachment. Only the intended recipients are given the password to download the attachment, thereby increasing document security.
Visitors to the bTrade booth can also take advantage of its give-aways and enter to win prizes. So we encourage all attendees to please stop by the bTrade booth.
What: Data Connectors Tech-Security Conference Chicago
When: Wednesday November 12, 2014
Where: Chicago Marriott Northwest
For more information, visit either the Data Connectors website or bTrade at http://www.bTrade.com.
And you can read bTrade's blog posts on the topic of data security.
About bTrade
bTrade develops managed file transfer technology solutions for enterprises that share sensitive data across applications and organizations, and face complex security and compliance mandates. Thousands of customers depend on bTrade solutions to gain control and oversight of the movement of critical corporate data to facilitate data growth, reduce security risk, and improve IT and business efficiency. bTrade was founded in 1990 and is led by eBusiness visionaries who have delivered industry-leading business integration solutions to thousands of enterprise customers worldwide. bTrade is privately held and profitable with its global headquarters located in Glendale, California USA