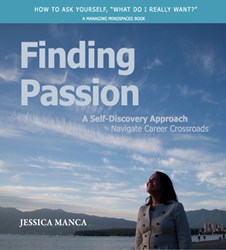 I believe we're all experts at hiding the truth from ourselves and can easily lose sight of what we want in a career. I reached my tipping point the hard way, so I wrote this book to help others find answers before they stop functioning.
Vancouver, BC (PRWEB) September 24, 2013
"Finding Passion: A Self-Discovery Approach To Navigate Career Crossroads," blends autobiography, social science and professional coaching into a powerful new book for success-driven individuals asking, "What do I really want?" An excerpt of Finding Passion is available for preview.
The workbook, authored by Jessica Manca, Vancouver Executive Coach and Founder of Managing Mindspaces, helps readers define the future and challenge limiting thinking through coaching questions, written exercises and self-management strategies.
In 2010, Manca underwent a major transformation. She returned to work after starting a family expecting to continue as planned with her successful career within management consulting. She instead experienced burnout and struggled with the decision of staying in a job which left her unfulfilled. She overcame self-perceived limitations about her long-term career path by working with a coach. She's most proud of the personal process she went through to trust herself again and realign to living the life she wanted.
"Finding my Passion brought my life back to center. I'm grounded in knowing who I am and what's important in my life," according to Manca. "This process helped me see that just because I'm good at my job, my job may not be good for me."
The workbook contains ten chapters and exercises along with her personal story to inspire readers to see they're not alone. Now a professional coach, Manca works with clients who feel stuck in their careers. Through personal coaching and using the self-awareness exercises within the book, she helps clients make better decisions and live the life they want.
What's Self-Discovery?
Unlike other self-help resources, self-discovery encourages understanding oneself and gaining knowledge through self-awareness. The book is not a how-to but a coaching and personal change framework to find answers in an individual's quest to have a fulfilling career.
What's the problem the book addresses?
The workbook is designed for individuals at the crossroads of contemplating a career change, experiencing a transition or feeling the urge for something greater. By finding one's passion, readers gain confidence they have the information needed to make informed decisions, now and at the next point when a career crossroad is faced.
Who's the book for?
Ideal for busy mid-career corporate professionals, small business owners, high achievers and hard-working employees who feel unfulfilled, unmotivated or those ready to bring their vision forward.
"Finding Passion: A Self-Discovery Approach To Navigate Career Crossroads"
Author: Jessica Manca
ISBN 978-0-9920823-0-7 (Paperback)
ISBN 978-0-9920823-1-4 (Kindle)
For release: November, 2013
To receive exclusive book updates, special offers and resources for finding your Passion, visit http://www.managingmindspaces.com/books/Finding-Passion.
About Jessica Manca
Jessica Manca is a Former Management Consultant, Professional Project Manager, Certified Executive Coach and Solopreneur. Manca left the corporate world after fifteen years and founded Managing Mindspaces in 2012 upon answering the call from her Ultimate Future. Manca shares her inner light, energy and inspiration to others struggling in the dance of high-paying careers which leave them unfulfilled.
Manca is an Associate Certified Coach (ACC) and Certified Executive Coach (CEC) as recognized by the International Coach Federation. Manca is a member of the Vancouver Chapter International Coach Federation, West Coast Chapter Project Management Institute and mentors young leaders with Women in Leadership Vancouver. She practices one-on-one personal coaching with individuals across North America, helping others live the life they want. Manca resides in Vancouver, British Columbia.
About Managing Mindspaces
Managing Mindspaces delivers executive, career and life coaching to mid-career men and women seeking clarity, passion and happiness. Coaching is offered in-person, via phone or using Skype Coaching.