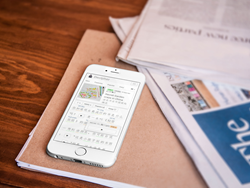 Simply the best method for reading acquisition
London, UK (PRWEB UK) 24 September 2015
Decipher Chinese, a language technology startup, has launched its news app for learning Chinese on iOS, Android and web. Focused on those learning to read Chinese, the new app serves up easy Chinese practice articles with China news, Chinese culture, Mandarin language facts and observations on modern China – all written for beginner and intermediate students and embedded with features to help learn Chinese.
"We want to tap into people's habitual use of smartphones by providing bite-sized chunks of news to users – in the language they are learning," said Founder, Alvin Chuang.
The Decipher app offers a healthily cynical and intelligent news service about China and the wider world – think BBC news, Time Magazine and a splash of Gawker gossip – written by experienced Mandarin teachers specifically for learners at a spectrum of levels.
It is aimed at serious beginner to intermediate level students with a few months to a few years of study under their belts (or HSK1-HSK4, according to the standardised Mandarin assessment tests).
With a vocabulary of typically 2,000 characters needed to read newspapers, Mandarin is a notoriously difficult language to learn. It requires a huge investment of time and even after months or years of lessons, real Chinese media poses a challenge to even the most dedicated of students.
The beauty of Decipher is that it lets the learner put their Chinese in action, reading real news, analysis and social comment, not just practise material. It also provides tools to aid understanding above their level: word segmentation, level hints, a built-in touch dictionary and voice playback. The result is a surprisingly enjoyable learning experience.
"The idea is to reward users for the hard work they have put into learning so far, and stretch them further to build up vocabulary in topics relevant and interesting to them," Chuang said. "We are moving on from monotonous flashcards to experiential learning where our users look forward to opening something new every morning".
Feedback has been enthusiastic, with app store reviews saying: "Decipher Chinese is a great app, one of the rare ones with a bit of intelligence behind it". There is praise for it as an essential component in the tech savvy Mandarin student's arsenal: "Simply the best method for reading acquisition. This is something I've been looking for since I started learning Chinese".
APP FEATURES

Regular, small bites of easy Chinese reading graded at HSK1, HSK2, HSK3, HSK4
Compelling news and analysis about China and the world
Smart tools such as Chinese dictionary with HSK exam vocab guide and pinyin, audio, live chat, voting
Join in on community discussions or explore hundreds of articles in the archives
Traditional Chinese and Simplified Chinese characters supported
PRICING AND AVAILABILITY
The Decipher Chinese app is available on Apple's App Store and Google's Play Store for free. A web version is also available for browsers on mobile devices or desktops and laptops. Users signing up now will be awarded an Early Bird gift of free premium subscription time when the full service is launched.

ABOUT DECIPHER CHINESE
Based in London, UK, Decipher Chinese has been active in language education technology since 2012. As students of Chinese living outside the sinosphere, the team understands the challenges fellow learners face in taking on the brave task of learning Mandarin. The two-person core team is supported by professional Mandarin teachers based globally.
###