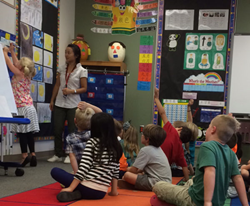 I love how there is a clear set of national standards from which the Better Immersion program can be measured against.
Palo Alto, CA (PRWEB) May 27, 2015
Better Chinese, LLC, a thought leader in Mandarin education for linking technology with pedagogy in PK-Grade 16 schools, is changing the way schools around the country are learning and teaching Chinese. This month, Better Chinese launched Better Immersion, a brand new Mandarin immersion curriculum for K-Grade 5 schools that immerses students in Mandarin language arts, science, social studies, and mathematics.
"When looking at immersion education around the country, it is imperative for language educators, principals, and teachers to know how very important it is for us to all speak the same language--the language of instruction," said Dr. Michelle Cloud, School Support Officer for Houston Independent School District. "When you have a set of materials that can help school districts not only assess students' language proficiency but be able to determine whether a student in Texas is able to express themselves academically the same way as another student in Illinois, it immediately brings the level of accountability up another notch."
This school year, Barnard Asian Pacific Academy in San Diego, California has been utilizing Better Immersion with their kindergarten and first grade students. "Our teaching team likes the breadth and depth of the curriculum," said Julie Li, Barnard's Kindergarten Lead Teacher and Mandarin Coordinator. "By using the curriculum's resources, we feel we are able to now focus more time on our students. Our teachers like how the in-class materials for the learning centers are differentiated based on language proficiency and have the objectives spelled out."
Another district in Deer Valley, Arizona conducted pilot classes with their kindergarten students and have experienced success in being able to measure students' academic and ACTFL proficiency standards. "I love how there is a clear set of national standards from which the Better Immersion program can be measured against," said Michelle Medved, DVUSD Mandarin Program head and consultant for Deer Valley Unified School District. "This raises the level of academic language for our elementary Mandarin learners. This helps our Mandarin immersion team set clear goals and teaching objectives and align them with content standards and language proficiency targets."
Better Immersion provides technology and interactive texts for students in Chinese, and allows students to read authentic texts, designed based on CCSS demands of incorporating complex text and represents a variety of text genres, including literary, informational, and foundational Mandarin.
Parents love the interactive nature of the curriculum and how their children are able to sing and read the interactive texts online. "My husband and I do not speak Chinese, so we rely on our son's educators and his curriculum to provide the materials, support, and frame of reference that will give him the rich, engaging, and relevant experience he needs," said Love Zubiller, parent of a first grader at Barnard. "The Better Chinese written and online materials provide the right tools for our son to learn with his teacher at school and to continue learning with our support at home. When he has trouble pronouncing the characters, we are able to listen to and read from the interactive e-books. We are very pleased with the results."
"The time has come for us to offer a curriculum that will match the intelligence and maturity of our language learners in the field of Chinese immersion," said Li-Hsiang Shen, Chief Education Officer at Better Chinese. "Our goal is to create materials that are invigorating for our learners in the classroom and beyond. Better Immersion is designed with best instructional practices in mind. The materials reflect a need in the market for a balance between content and language instruction to ensure necessary scaffolds are built for students' language proficiency targets without sacrificing academic rigor while ensuring skill sets are met."
Information Regarding Better Immersion:
Better Immersion is a Mandarin language arts program that is content-based driven and standards-aligned for Chinese immersion classrooms. The K- 5 curriculum was designed to ensure academic rigor, foundational language consistency and measurability with in-depth teacher supports. The formative and summative assessments empowers students with higher order thinking skills. The comprehensive curriculum and related learning supports--including in-class and after class workbooks, assessments, and student activity templates for instructional centers-- are correlated to national standards, including Common Core State Standards, Next Generation Science Standards, and National History Standards.
For more information, please log onto http://www.betterchinese.com.