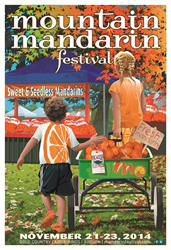 AUBURN, CA (PRWEB) November 05, 2014
Mountain Mandarin Festival Celebrates 21 Magical Years
November 21, 22 and 23, 2014
Gold Country Fairgrounds, 1273 High St., Auburn, CA
Hours: Friday: 11:00 am to 5:00 pm; Saturday: 9:00 am to 5:00 pm; Sunday: 10:00 am to 4:00 pm,
Admission: FRIDAY PREVIEW: ADMISSION JUST $3
Saturday/Sunday Admission: $8; Seniors/Active Military with ID $5; Age 12 & Under Free
Gold Country Fairgrounds Parking $5, some street parking available
NO DOGS ALLOWED
Public information: 530 5-ORANGE (567-2643) or http://www.mandarinfestival.com
AUBURN, CA. The new gold in Placer County California is growing on trees as the County has become known for their intensely flavored, sweet, Mandarin Oranges. The annual Mountain Mandarin Festival, November 21-23, will celebrate 21 Magical Years in 2014 with the new crop of delicious, foothills-grown Mandarin oranges. Placer County growers will sell thousands of pounds of fresh Mandarin oranges and gift baskets, accompanied by all the free samples you like. Join in the fun with a Mandarin Recipe cooking contest, professional chef demonstrations, food, artisan crafts, and activities featuring the Mandarin orange, a Peel & Eat contest, live music and entertainment.
The Festival is held under the autumn-leaved trees of the Gold Country Fairgrounds in Auburn, CA where their golds, rusts and burgundies are punctuated with the bright orange globes of Mandarins everywhere you turn. The tangy scent of citrus is in the air as visitors discover chocolate-covered fresh Mandarins, Mandarin pizza or pulled pork, and Mandarin Pie. Visitors can take home Mandarin BBQ sauces, syrups, preserves, olive oils, dressings and dozens of other Mandarin inspired concoctions.
More than 200 vendors of quality gift items sell Mandarin scented lotions, soaps, and candles, along with artisan-crafted jewelry, home accessories, and holiday items. Hop aboard the solar-powered green train for a guided tour of the event. Buy your bags of mandarins early and leave them at the Boy Scouts check station for delivery to your car when you are ready to leave. Live music provides a festive atmosphere as you stroll the grounds and visit with the growers.
The seedless, easy-to-peel Owari Satsuma Mandarin oranges are particularly suited to the warm days and cool nights of the Placer County foothills, at the base of the Sierras. A study by researchers from the U.S. Department of Agriculture confirmed that the juice from Owari Satsuma mandarins grown in Placer County orchards contains significant amounts of synephrine, a natural product that can help relieve the symptoms of colds and allergies.
For information visit http://www.MandarinFestival.com. Proceeds benefit the scholarship fund of the Newcastle Area Business Association, the Newcastle Volunteer Fire Fighters Association and the Alta Vista Charter School Kitchen Project.
#####
High quality digital photos at https://www.dropbox.com/sh/oddcwr7nze0xhu8/AAAD5syDSjLcZyEv8ttKiZlta?dl=0 and food photos at https://www.dropbox.com/sh/uy8ngqtlgr4lc9k/AADsKjCoY6nmoeZtA5nwGPy5a?dl=0