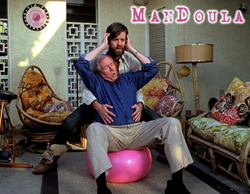 With the script already in place, ManDoula's Kickstarter Campaign offers an opportunity for people to be a part of something special right from the very beginning.
Los Angeles, CA (PRWEB) March 26, 2014
Comedy Director Laura Somers has just announced the creation of "ManDoula," a new indie comedy about (man)doulas, strip clubs, electrodes, and babies. Over 8 years in the making, it's a film devised in the same vein as "Knocked Up" and "The Hangover," but with the quirkiness that only an indie film can bring. Putting a shocking twist on birthing coaches, it's a story of desperation, greed, commitment, and ultimately, a message of responsibility.
What is a MANDoula? As Laura explains, a doula is a person who assists and prepares women for the rigors of childbirth and can even provide assistance to her after the baby is born. It's a profession made up entirely of women, Laura notes, except for the estimated two or three male doulas in existence. However, in this case, "ManDoula" is a raunchy comedy about Nelson, a manchild himself, who has been shut out of his father's strip club franchise. Desperately needing money, he winds up becoming the protege of Clark, an experienced male doula with major issues of his own. While hilarity certainly ensues, the ultimate message of the film is the importance of having fathers in peoples' lives.
And yes, MANDoulas are just what moviegoers will imagine: male doulas who help men help their partners in labor and beyond. Of course, this story would not be a good old fashioned comedy without having Nelson's experience with strippers tie back into his "man doula methods" and make him a smashing success. Ultimately, Clark's lessons for Nelson stretch to broader issues and end up changing him forever; this issues include commitment, love and care for others, and a greater sense of responsibility to things other than himself.
Laura first wrote the script for "ManDoula" in 2006. Featuring a wacky, playful tone, it has become her passion project and deals with an issue that affects many of her generation - walking the fine line between emerging adulthood and extended adolescence. In the current Hollywood environment, she notes that indie filmmaking has become more marginalized than ever before, as studios continue to focus on producing big-budget sequels and comic book films. That's why Laura needs help with her independent film, and why she has launched a fundraising campaign on Kickstarter.
Ambitiously pursuing the goal of raising $120,000, this is certainly no easy task. With the script already in place, ManDoula's Kickstarter Campaign offers an opportunity for people to be a part of something special right from the very beginning. With various funding Pledges granting donors access to things like special preview scenes, a listing in the end credits (and IMDB bragging rights), a copy of the film and script, and even invites to film festivals and parties, this is a campaign that is attempting to give back as much as possible to every contributor. For people who have ever wondered how they can become a Producer, there are even opportunities for them to become an Associate, Executive, or Co-Producer. They can put that on their business card and mean it.
The Kickstarter Campaign for ManDoula is set to be completed on April 8. People may follow all of its developments and its quest to get funded on https://www.kickstarter.com/projects/1620014112/mandoula-a-comedy-feature-film.
About Laura Somers:
Born in Houston, TX, Laura Somers holds a BFA from NYU's TISCH School of the Arts. Her work has been declared by American Theater Magazine as "hot…hip…a fresh eye toward its subject matter and the inventiveness and bravery to help its audience see it with fresh eyes". Her productions have received grants from IBM, the Austin Arts Commission, Banana Republic and Vanity Fair. She received an artist development fellowship from Film Independent. Laura co-wrote and co-directed "Love 10 to 1," a romantic comedy feature about the highs and lows in the search for "the one." She was commissioned by UCLA Medical Center to create "Finding P.E.A.C.E.," an educational film for cancer patients undergoing esophageal surgery. It is currently being screened at medical conferences and in the homes of patients nationwide and was a finalist for the International Health and Media Awards. She recently directed the feature film "Ripe," produced by Metamorfic Productions. Laura has been a guest director and lecturer at Austin Community College. Between 1999 and 2003, she was Co-Artistic Director of the critically acclaimed, award-winning theater company the dirigo group in Austin, TX. She currently mentors young screenwriting students through the WGA East Mentoring Program and war veterans through the Veteran's Writing Workshop.