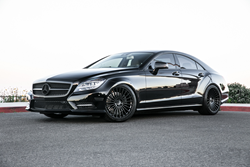 Mandrus wheels are precisely centered over the Mercedes hub for a velvety, vibration-free ride. The wheels support the Mercedes tire pressure monitoring system (TPMS) and accept the original equipment center logo cap
Brea, CA (PRWEB) July 25, 2017
When it comes to aftermarket Mercedes Wheels, Mercedes Benz owners demand options, and the assurance that the Mercedes rims they are considering were designed and engineered specifically for their year and model Mercedes. Mandrus Mercedes Wheels rises to that challenge with a variety of different styles and finishes, in ten different diameters and widths, all exclusively for Mercedes Benz cars and SUVs.
An example of the craftsmanship found in each Mandrus wheel: The 23 mono-block alloy wheel is compatible with Mercedes legendary precision and quality, while serving as an example of the Mandrus commitment to design excellence in Mercedes Benz Wheels. "Mercedes owners are fanatical about excellence and attention to detail. At Mandrus, we respond by assuring that every Mandrus wheel provides the exact fit and compatibility with almost all models within the Mercedes lineup," stated Terence Scheckter, president of Mandrus Wheels. "Mandrus wheels are precisely centered over the Mercedes hub for a velvety, vibration-free ride. The wheels support the Mercedes tire pressure monitoring system (TPMS) and accept the original equipment center logo cap," Scheckter added.
The clean, optically radiant twenty three spokes of the "23" wheel style has the sophisticated DNA of racing and luxury integrated into a meticulously proportioned custom wheel that match perfectly on the timeless designs of Mercedes. The monoblock casting methodology that Mandrus uses to manufacture the "23" Mercedes wheels, use a proprietary hardened aluminum alloy, enables Mandrus to achieve the exquisite detail of the sharp resolution of each spoke to the edge of the wheel lip ring that make the wheel gleam just right . The extra three spokes added to the more common twenty multispoke optimize the visual kinetic play of how light hits these alloy wheels whether parked or in motion. As good looking as it is a manufacturing marvel, the 23 is available in stealth Matte Black or a rich gloss gun metal with mirror cut face.
The Mandrus 23 wheels are available in a wide variety of diameters, and within each diameter, wheel widths are available in two sizes, one typically a full one inch wider than the other. This supports the Mandrus philosophy of a staggered footprint, with wider wheels and tires in the rear. A staggered footprint not only gives the vehicle a more aggressive stance, it also improves both off-the-line and lateral adherence, for improved road holding and braking.
Customers can experience the Mandrus difference at http://www.mandruswheels.com. On the website, browsers can find a U.S. dealer by zip code or get the phone number to find a Canadian dealer. Users can click on the "Configurator" tab to preview how the 23, or any Mandrus wheel, will look on their year, model and color Mercedes.
To locate Mandrus Custom Mercedes Wheels dealers, call 1 888-766-7775 or search by zip code on the MandrusWheels.com website. Mandrus Wheels dealers are located throughout North America and worldwide.