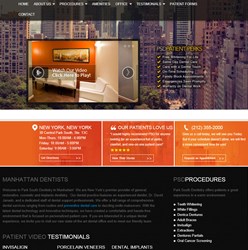 We're excited to support this unprecedented digital currency and offer patients a new way to pay for their dental needs. - Dr. David Janash
New York, NY (PRWEB) January 15, 2014
Park South Dentistry, a Manhattan-based provider of general, restorative, cosmetic dentistry and implant dentistry, today announced that the midtown practice will now accept Bitcoin for patient balances and co-payments. The practice joins a growing roster of retailers, service providers and small businesses that participate in the new payment network.
"Since inception, Park South Dentistry has continuously strived to provide our patients with innovative dental treatments, materials and technologies," said Dr. David Janash, owner and founder, Park South Dentistry. "We're excited to support this unprecedented digital currency and offer patients a new way to pay for their dental needs."
Park South Dentistry is a comprehensive dental practice providing services ranging from routine and preventative care to dazzling smile makeovers. Located in state-of-the-art facility, the practice features an experienced, dedicated team of dentists, a comfortable and hassle-free environment, and a friendly, personalized approach to oral health. For more information visit http://www.parksouthdentistry.com.