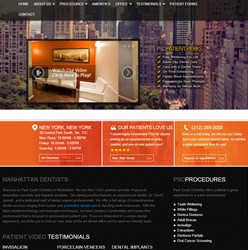 We know that our patients have busy lives and schedules, and we pride ourselves on going one step further to ensure that they receive the dental care they need, when they need it. - Dr. David Janash
New York, NY (PRWEB) November 05, 2013
Park South Dentistry is pleased to announce that the full-service practice, located in the heart of Midtown Manhattan, now offers same-day dental appointments and emergency dental care. Patients in Manhattan and the greater New York metro area with dental emergencies or in need of immediate cosmetic or restorative dental care can book an appointment with one of Park South Dentistry's acclaimed dentists that same day by calling 212-355-2000 or online at http://www.parksouthdentistry.com.
Dental-related emergency visits in the United States are on the rise, according to a recent report by the Health Care Utilization Project. In response to this growing trend and to provide better continuity of care for patients, forward-thinking dental practices across the country – like Park South Dentistry – are extending hours and services to accommodate patients who need same-day or emergency dental care. While same-day appointments are not guaranteed, Park South Dentistry has allotted a select number of appointments daily for dental emergencies and will work with patients to find a time that fits their busy schedule.
"We know that our patients have busy lives and schedules, and we pride ourselves on going one step further to ensure that they receive the dental care they need, when they need it," said Dr. David Janash of Park South Dentistry. "Nobody should have to wait in pain for an appointment. At Park South Dentistry same day and emergency dental appointments are just one part of our overall philosophy to provide outstanding, convenient, and affordable dental care."
About Park South Dentistry:
Park South Dentistry is a comprehensive dental practice located near Central Park in Manhattan. They offer a full range of advanced dental services including complete preventive, general, restorative and cosmetic dental care as well as dental implants dentistry. If you would like to get more information about their practice, please visit their website at http://www.Parksouthdentistry.com or call their office at (212) 355-2000.