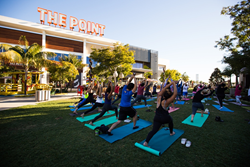 "We have a great new retail team in place here at The Point and they look forward to engaging with the local community," said CEO Scott Kerslake. "prAna's roots are in Southern California and many of us have close connections to the Manhattan Beach area."
Carlsbad, CA (PRWEB) November 25, 2015
prAna celebrated its newest retail location in Manhattan Beach with the local community, company employees and ambassadors at the new upscale lifestyle center The Point, on Saturday, November 21. prAna brand ambassador Amy Ippoliti led a complimentary yoga class outside in front of the new store to kick-off the celebration.
"We have a great new retail team in place here at The Point and they look forward to engaging with the local community," said CEO Scott Kerslake. "prAna's roots are in Southern California and many of us have close connections to the Manhattan Beach area."
prAna began designing clothing for yogis and climbers. It has since broadened its reach, providing men's and women's lifestyle apparel and accessories. Built for both adventure and every day wear, prAna provides versatile, comfortable, and stylish clothing that is designed and manufactured with sustainability in mind.
"At prAna, we believe a brand should give much more than it takes from the world," said Kerslake. "We are excited about the solutions we've found so far, and we promise to keep making and doing things better through sustainable materials, thoughtful details, and above all, our signature style—these are the seeds that started prAna, and it's the inspiration that moves us forward today."
Following the community yoga class, prAna opened early for its grand opening celebration, which included in-store giveaways, exclusive shopper discounts, social media contests and more. prAna ambassadors Amy Ippoliti and Nole Cossart were in attendance along with other brand executives.
The new prAna Manhattan Beach store is 3,057 square feet and is open Monday – Friday 10am – 9pm, Saturday 10am – 6pm and Sunday 12pm – 5pm. The store is located on the corner of Rosecrans and Sepulveda. Follow along for store announcements on Instagram, @prAnaManhattanBeach.
About prAna
prAna clothing and gear is made with intention. Every detail — from trim to fabric and hangtags — is carefully designed to enhance our lives today while still considering the needs of tomorrow. For more than 22 years, this vision has been at the root of prAna's relationships with customers and retailers. prAna clothing is designed in Southern California with style and versatility in mind. prAna is deeply committed to mitigating the impact they have on the environment every step of the way, from manufacturing to retail. It takes special care to ensure its clothing and accessories are made in safe and fair working conditions. prAna is sold in five flagship stores, online at prana.com, and in 1,400 specialty retailers across the US, Canada, Europe and Asia. prAna is one of the portfolio brands of Columbia Sportswear Company (COLM).
For a list of prAna retailers, please visit prana.com/dealer-locator.html
Find @prAna on Facebook, Twitter, Pinterest, and Instagram