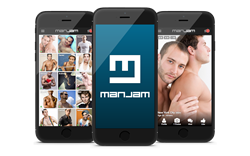 Freedom of expression should be our universal right and we need to take it back
London, United Kingdom (PRWEB UK) 20 January 2015
Gay social network Manjam.com has launched a gay dating app that operates beyond app store restrictions. Manjam users can now connect using any mobile device without having to download an app from tightly controlled and censored app stores.
Internet censorship has reached new extremes of blocking and restricting freedom of expression. Leading gay social network provider Manjam believes internet freedoms must be safeguarded from being controlled by governments or large corporations.
Unlike the broader internet, app stores are arguably closed ecosystems. Other popular gay web apps must conform to strict censorship rules imposed by large web-based companies before they can be distributed.
The team at Manjam.com believe it is essential for companies to offer alternative ways for people to express themselves, without large tech companies editing what they can and can't say. Users can now break from app store restrictions by accessing the Manjam dating app directly from their device's web browser.
Manjam founder Mitch Munro says:
"In the past, gay men had to live with social restrictions imposed on them by governments. While the battle for gay rights is progressing in many countries, our right to freedom of expression seem to be regressing online. Large social media and web-based corporations are quick to mediate what people can and can't publish. This form of censorship goes against Manjam's philosophy of openness. The right to expression should be a universal given and this right needs to be upheld whenever possible."
Furthermore, for some users downloading gay dating apps to their device is simply not an option. Mitch says:
"In some countries being caught with a gay dating app installed on a mobile device could mean the difference between life and death. Allowing users to access Manjam.com without having to download an app is essential in countries where being gay is illegal and punishable by imprisonment, torture, or even death."
About Manjam.com
The Manjam gay social networking web app is a cross-platform app, accessible via the mobile device's web browser. It does not require downloading onto the user's mobile device in order to be accessed. Built using the latest open standards such as HTML5, JavaScript and CSS3, the Manjam dating app is designed to work seamlessly across all smartphone, tablet and desktop devices.
Since launching in 2004, Manjam has become one of the world's most popular social networking communities for gay and bisexual men. Manjam achieves high visibility, receiving more than 3 million visitors and 67 million page views every month, across America, Europe, the Middle East and Southern Asia. While Manjam is positioned as a global social network, its translation into 28 languages and GPS geolocation technology provides members with a more localized experience. Members can also upgrade to a premium subscription-based service called Manjam Gold to gain additional features.
About Hubjet
Hubjet is a digital product development agency focused on creating social networking technologies for niche communities. For more information visit http://hubjet.com.