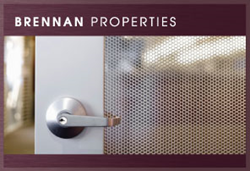 Brennan Companies excels at fostering your business growth, both as a general contractor and landlord.
Mankato, MN (PRWEB) January 26, 2015
Since 1994, Brennan Construction has been constructing quality buildings throughout Minnesota. By effectively providing design/build, general contracting, and construction management services, Brennan Construction have established thriving relationships with satisfied clients and strategic, solution-oriented partnerships with key professionals and tradesmen. In 2000, Brennan Construction added Brennan Properties, both functioning under the Brennan Companies umbrella.
"It is our unwavering commitment to these clients, the strength of great partnerships, and our philosophy of building structures for success, prosperity and preservation that ensures client satisfaction—our measurement of success," says Project Manager Joe Brennan.
Brennan Companies has two primary divisions, Brennan Construction and Brennan Properties. Brennan Construction is a general contractor for commercial building projects ranging from roughly $50,000 to $10,000,000 in cost.
"Brennan Companies excels at fostering your business growth, both as a general contractor and landlord. We offer design/build and construction management services, and have all types of commercial spaces available for lease to fit any business," says Brennan.
Brennan Construction manages each trade involved in completing a project, including excavation, masonry, mechanical, electrical, interior finishes and more. They are ultimately responsible for schedule, cost, and workmanship. As a General Contractor, they provide project estimating, on-site carpentry with supervision, and office management. Brennan Construction is a member of the Women's Business Enterprise National Council (WBENC.)
"As a builder, we act as an extension of our customers, putting their needs first. We always deliver on promises, and find creative solutions to challenging problems," says Brennan.
Bridge Plaza, will have 4 stories of Class A office space, and 3 stories of luxury apartments/condos, including a roof-top terrace, which is the first in Mankato,. They are currently looking for tenants; construction is slated to begin in spring 2015.
Brennan Properties owns and maintains five commercial buildings in Mankato and North Mankato. They currently have 67,000 sf of leasable space divided amongst 30 tenants.
For more information:
Brennan Companies
5275 Edina Industrial Blvd
Suite 201
Edina, MN 55439
507-625-5417
"Similar to Brennan Properties, JGM treats their tenants like family versus profit drivers," says Brennan.
JGM Properties owns and manages Pakwa Business Park, as well as 23 additional suburban Minneapolis warehouse, and office space properties. Founded in 1980, JGM Properties works with over 200 tenants, including Brennan Companies to provide office, warehouse, and retail space for lease in Minnesota.
"I enjoy leasing from JGM – they really value each tenant, regardless of the tenant's size," says Brennan.