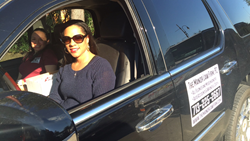 We are honored to have been able to march in this parade for the past four years. The firm is an active member of the Black Heritage Society, which hosts the parade."
Houston, TX (PRWEB) February 10, 2016
Attorney Jeralyn Manor, of The Manor Law Firm, PC, is proud to announce she along with other members of the firm recently celebrated Martin Luther King Jr. Day by participating in the 22nd Annual MLK Grande Parade in Houston. "We are honored to have been able to march in this parade for the past four years," said attorney Jeralyn Manor. "The firm is an active member of the Black Heritage Society, which hosts the parade."
In addition to members of The Manor Law Firm, Houston's Original MLK Grande Parade, the third-largest parade in the country after Pasadena's Tournament of Roses and Macy's Thanksgiving Day Parade in New York, drew approximately 300,000 spectators. It was held on January 18 in downtown Houston and featured marching bands, drill teams and cultural groups from all over the city.
"It's just a continual celebration of Dr. Martin Luther King, because he was very instrumental in pulling us together," said Constable May Walker of Harris County's Precinct 7, who has attended every MLK Grande Parade since its founding.
About The Manor Law Firm, PC
The Manor Law Firm is a full-service law firm based in Houston. Practice areas include criminal defense and personal injury. Attorneys at the firm operate with the belief that clients are just like them, facing real-world challenges and events. For more information, please call (713) 225-2667. The law office is located at 1730 Jefferson St., Suite 218, Houston, TX 77003.
About the NALA™
The NALA offers local business owners new online advertising & small business marketing tools, great business benefits, education and money-saving programs, as well as a charity program. For media inquiries, please call 805.650.6121, ext. 361.