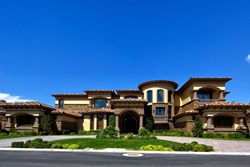 We are now able to list some luxurious houses from our network of clients, and have eliminated the need to qualify for bank lending to purchase our listed properties
Las Vegas, NV (PRWEB) June 26, 2015
Higher end real estate that is located in the state of Nevada is now part of the listings that are now online at the Luxury Estate Finder website. Mansions for sale in Las Vegas and surrounding areas are now available to buy without bank financing. More details about these homes can be found at http://luxuryestatefinder.com.
The listings that are now posted for buyers to explore include houses with private tennis courts, basketball courts and lakefront views in Las Vegas. A majority of the mansions that are available have more than 10 bathrooms and have a minimum of 5 bedrooms in different areas of the property. The offer for owner financing is available for each home for sale.
"We are now able to list some luxurious houses from our network of clients, and have eliminated the need to qualify for bank lending to purchase our listed properties," said a Luxury Estate Finder rep.
The homes for sale in Vegas and other parts of the state of Nevada that are available to explore at the LEF website are immediately available to buy. A simple application form that does not ask for sensitive information is now available for potential buyers to fill out on the company homepage.
"Eliminating the bank from the buying equation is one way that our company helps to close sales faster for people who prefer to buy executive properties," said the rep.
Visitors of the Luxury Estate Finder website will be able to search for homes in other states as soon as new listings are available. The housing team that is now working nationally is working toward acquiring homes to present to the web and VIP buyer list on the company homepage.
About LuxuryEstateFinder.com
The LuxuryEstateFinder.com company now lists homes that are discounted and can be purchased without bank financing on its website. The company specializes in locating the top executive homes for sale across the U.S. The LuxuryEstateFinder.com company now has a private list accessible on its website that lists celebrity homes an other properties in key states.