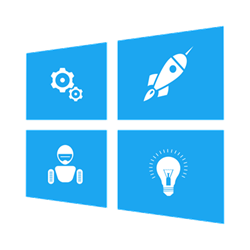 Rochester, NY (PRWEB) December 07, 2016
Manufacturing of the Future, an event hosted by eLogic + Microsoft, connects Manufacturing executives with the industry leaders & technologies that are transforming the future of customer engagement and actionable intelligence for manufacturers. The event is limited to 20 executive-level participants to guarantee a thought-provoking experience where participants will see that latest solutions in action, including IoT, Cortana, and HoloLens. The purpose is for participants to experience what it looks like to win with unparalleled customer & channel partner engagement, and grow market share with proactive, predictive, and connected field service. A key element to these next-gen service capabilities is equipment lifecycle management, enabled by equipment 360™, eLogic's technology solution & related services for 360 degree views into equipment sensors, smart analytics, and proactive triggers for Service.
During the event, eLogic will guide three live business case demonstrations enabled by the latest Microsoft technologies, and discuss proven & actionable responses to key shifts underway for Manufacturers. The hands-on experience will show how Connected Service, Business Intelligence, & Smart Equipment deliver results for manufacturers' most critical assets, leading to competitive advantage. Three driving themes include how to:
1. Engage your Customers Intelligently by Mastering Digital Transformation
2. Empower your Employees + Maximize Knowledge Worker Productivity with Technology to Power the Next Generation
3. Optimize your Operations + Transform your Products by Connecting your Workforce and Customers for Predictive & Preventive Service
Another key aspect to this event is a charitable component, which is key to driving a sustainable future of Manufacturing. In honor of this event, Microsoft Philanthropies is donating to the local Boys & Girls Club on behalf of each attendee.
The event will be held in New York, NY at the Microsoft Technology Center in Times Square.
equipment 360™ is eLogic's technology solution & related services for 360 degree views into equipment sensors, smart analytics, & proactive triggers for Service. equipment 360™ is an equipment lifecycle management solution that enables sensor technologies, analyzes event triggers, intervenes with a smart response, and learns through machine listening to surface predictive intelligence. With predictive intelligence from equipment 360™, manufacturers can make proactive service & maintenance decisions regarding the state of their equipment wherever the customer's plant, factory, or warehouse is located.
eLogic is an industry specialist in technology-enabled business solutions for manufacturers. As Microsoft's leading industry partner in manufacturing, the companies combine to drive the new generation of productivity, collaboration, and intelligent customer engagement for the digital economy. Key technology solutions built on the Microsoft Cloud Productivity platform include: Connected Customer & Field Service, Seamless Customer Engagement, Business Intelligence, Enterprise Integration, Sales Automation, Intelligent Quoting, Knowledge Deployment, Predictive Analytics & IoT / Connected Devices.
eLogic's deep vertical specializations include industrial equipment, process machinery, capital equipment, high-tech, aerospace & defense, and medical devices & technology. eLogic is the 2016 Worldwide Microsoft Dynamics Partner of the Year for the U.S., and Microsoft's 2015 Manufacturing Partner of the Year for Customer Engagement & Service solutions.