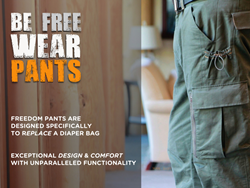 Even the manliest diaper bags were not working for us. Cargo pants were almost there with functionality but also lacked attention to design and fit, so we re-engineered them. Now all dads can have their baby gear handy without carrying an over-sized purse
Los Angeles, CA (PRWEB) October 30, 2014
With fathers' engagement in their children's lives continuing to grow exponentially, new dad driven media platform ManVsBaby are launching a Kickstarter campaign for Freedom Pants, the first pants specifically designed to replace a diaper bag, today at http://www.manvsbaby.com/ks.
As a father of five and ManVsBaby CEO, James Kadonoff notes, "with men taking on some, equal, or more childcare duties than their partners we saw a need for baby gear that fits with dads' active lifestyles. Diaper bags were still not working for us. Old school cargo pants were almost there with functionality but also lacked attention to design and fit, so we re-engineered them for ourselves and our friends."
Freedom Pants feature movable utility pouches that are lined with a removable thermal insulated and waterproof liner, expandable utility pockets, a large mobile phone pocket, a hidden pocket, sunglasses loop, binky/keys pouch, carabiner loop and clip, and a changing pad with its own zippered pouch.
While the pants will be manufactured and sold no matter what, a Kickstarter pledge will bring them to market sooner. With pledge levels from $1 to over $1000, anyone can participate in bringing Freedom Pants to dads everywhere. The first 500 backers to pledge $99 will receive their Freedom Pants at the lowest price of $99.
$1-$98 backers will receive digital thanks, ManVsBaby organic tees and hats. $125 backers (after the first 500) will receive pants. Backers of $150 and up will receive various packages that include pants, hats, tees, onesies, and travel wipes.
Designed to appeal to discerning dads and the moms who love them, all ManVsBaby apparel blends modern fashion with extreme functionality and superior craftsmanship that fits cleanly, and feels more comfortable than a favorite pair of jeans. All ManVsBaby tees are made of 100% ring spun organic combed cotton for exceptional comfort and quality. All the tees and hats and onesies are organic and made in the USA.
Co-founder, VP of Product & Sales and father of three Avi Sills reflects, "We designed the pants, tees and hats to a high standard of comfort and quality reflecting what we know, from extensive experience, that today's dads need."
As the opening salvo in a campaign to launch both Freedom Pants and the ManVsBaby brand, a Kickstarter was a logical next step. "As longtime and active participants in the entertainment, marketing, music, technology and start up scenes in Los Angeles, we know tons of people, many of whom are becoming or have recently become parents. We feel that Kickstarter is a great way to reach out to our friends and other busy new parents who will find our product useful and our brand compelling," adds Drew Falkman, co-founder, CTO and father of two.
ManVsBaby.com, the site, will deliver original content, aggregated content, apps and innovative products for dads. Using humor as the primary tool, ManVsBaby will advocate a new mindset of fatherhood that has never been seen before, delivering an experience of entertainment, guidance, irreverence, compassion, redemption, instruction, news and in a word, relevance, to what men think and how they think it. ManVsBaby, which will be available on all platforms, will feature lifestyle content, health tips, articles, video, news, and products in a way that appeals to fathers: a comprehensive ecosystem as a daily part of dads' lives.
Ben Laski, the VP of Legal & Business Development, and also a dad of two, sums up ManVsBaby's Freedom Pants' Kickstarter, "We are excited to bring this needed product to dads of the world and are looking forward to bringing more products and our unique, irreverent dad POV as well."
To see the Freedom Pants' Kickstarter campaign, please go to http://www.manvsbaby.com/ks. For more info on ManVsBaby, please go to http://www.manvsbaby.com/.