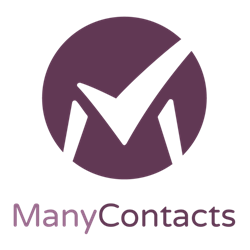 You can't argue with the premise of ManyContacts, which offers a simple way to build clientele without succumbing to any obnoxious advertisements.
Brussels, Belgium & Barcelona, Spain (PRWEB) January 29, 2014
GetApp, an independent marketplace that helps businesses discover, compare, review and purchase business applications, today announced it has awarded a high rating to ManyContacts, an attention-grabbing free contact form sitting on top of websites that helps to increase conversion rate by converting visitors into leads.
ManyContacts is a simple and attention-grabbing contact form in the format of a widget bar that sits on the top of websites.
It is already installed on more than 10,000 websites and it helps e-Commerce owners to sell more products, Freelancers & Small business to get more leads and Bloggers to grow their email list.
ManyContacts helps converting visitors in customers with an unobtrusive menu bar that gets pertinent information into potential clientele and customers without breaking their trust.
According to GetApp, ManyContacts turn visitors into leads and potential customers does in a way that benefits both the website owner and their visitors.
"You can't argue with the premise of ManyContacts, which offers a simple way to build clientele without succumbing to any obnoxious advertisements. If you need a way to quickly build a list of contacts, I think ManyContacts is nearly perfect for everything from newsletters to business leads," said Nathan Snelgrove, GetApp reviewer.
ManyContacts achieved the following ratings:
Overall: 8/10
Ease of Use: 5/5
Features: 4/5
Value: 5/5
Jean Derely, ManyContacts' CEO said, "We are honored to receive such as high score from GetApp. ManyContacts is a very innovative way to help website owners to get better conversion and lead rates with a simple tool that turns visitors into customers"
To read the full review on GetApp visit:
http://www.getapp.com/blog/manycontacts-review/.
To learn more about ManyContacts, please visit:
https://www.getapp.com/manycontacts-application.
About ManyContacts
ManyContacts is an attention-grabbing free contact form that's already installed on over 10,000 websites. The form sits on top of your website and helps to convert visitors into qualified leads. The most successful users are Ecommerce sites, Freelancers, Web Agencies, Local Businesses and Bloggers.
The company was founded by Woorank.com, a leading marketing startup with 1 million visitors a month offering SEO optimization tools. The company is based in Brussels, Belgium
About GetApp
GetApp is the largest independent online marketplace that helps small to mid-sized businesses and startups discover, evaluate and manage the perfect business apps for their needs. Its mission is to support millions of users in their "best app" research with comprehensive directories, interactive search tools, side-by-side comparison tables, user reviews and app evaluation resources.
In addition, GetApp serves as a global online marketing channel for thousands of business application developers. GetApp operates primarily in North America and the U.K. It is privately owned and backed by Nauta Capital.