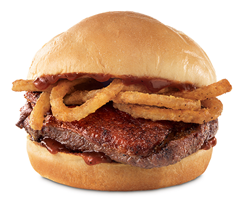 The new sandwich, with its sweet-smoky cherry sauce, complements the rich, red meat flavor of the duck breast perfectly.
LEESBURG, Ind. (PRWEB) October 16, 2018
Maple Leaf Farms, a leading producer of duck products in the U.S., has partnered with Arby's on a limited release Seared Duck Breast Sandwich. The new sandwich will be introduced in select markets on Saturday, October 20, 2018.
The sandwich features premium quality duck breast that's seared, cooked sous vide and topped with crispy onions and a smoked cherry sauce underneath a toasted bun.
"We are thrilled to be a part of introducing duck to the quick-service restaurant industry and its customers," said Maple Leaf Farms Marketing Director Cindy Turk. "The new sandwich, with its sweet-smoky cherry sauce, complements the rich, red meat flavor of the duck breast perfectly."
The Seared Duck Breast Sandwich follows previous hunting season releases at Arby's -- game meats such as elk and venison -- and will be available in just 16 restaurants, each of which are located in one of the four waterfowl "migration flyways." These locations were chosen due to their close proximity to actual duck hunting areas, according to Arby's.
Only a limited number of sandwiches will be available at each restaurant. The first 10 guests to order the Seared Duck Breast Sandwich will also receive an Arby's duck hunting camouflage hat.
Below is a list of all participating Arby's locations:

Jonesboro, AR: 723 E Parker Road, Jonesboro, Arkansas 72404
Chico, CA: 2485 Notre Dame Boulevard, Chico, California 95928
Atlanta, GA: 4415 Roswell Road, Atlanta, Georgia 30342
Great Bend, KS: 3413 10th Street, Great Bend, Kansas 67530
Lafayette, LA: 3333 Ambassador Caffery Parkway, Lafayette, Louisiana 70503
Cambridge, MD: 2731 Dorchester Square, Cambridge, Maryland 21613
Marshall, MO: 1191 Cherokee Street, Marshall, Missouri 65340
Kalispell, MT: 1210 US Highway 2 W, Kalispell, Montana 59901
Lincoln, NE: 5540 O Street, Lincoln, Nebraska 68510
Carson City, NV: 1122 S Carson Street, Carson City, Nevada 89701
Wyomissing, PA: 2741 Papermill Road, Wyomissing, Pennsylvania 19610
Summerville, SC: 329 N Main Street, Summerville, South Carolina 29483
Pearland, TX: 11233 Shadow Creek Parkway, Pearland, Texas 77584
Brigham City, UT: 774 S Main Street, Brigham City, Utah 84302
Happy Valley, OR: 10499 SE 82nd Avenue, Happy Valley, Oregon 97266
Onalaska, WI: 3210 N Kinney Coulee Road, Onalaska, Wisconsin 54650
About Arby's:
Arby's®, founded in 1964, is the first nationally franchised sandwich restaurant brand, with more than 3,300 restaurants worldwide. The Arby's brand purpose is "Inspiring Smiles Through Delicious Experiences®." Arby's restaurants feature Fast Crafted® service, a unique blend of quick-serve speed and value combined with the quality and made-for-you care of fast casual. Arby's Restaurant Group, Inc. is the parent company of the franchisor of the Arby's brand and is headquartered in Atlanta, Ga. Visit http://www.Arbys.com for more information.
About Maple Leaf Farms:
Maple Leaf Farms, Inc. is America's leading producer of quality duck products, supplying retail and foodservice markets throughout the world with innovative, value-added foods. Founded in 1958, Maple Leaf Farms is a fourth generation family-owned company. For more information, visit http://www.mapleleaffarms.com or call 1-800-348-2812.