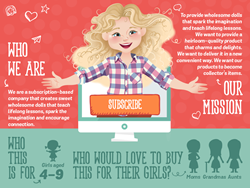 "We wanted a product that let the beauty of childhood shine through, the innocence of childhood." - Shauna Altes
DAYTONA BEACH, Fl. (PRWEB) April 05, 2016
Creating connection through experiences, Maple Box Dolls, a subscription based toy company founded by female entrepreneur Shauna Altes, today introduces "Joyful Jenny" the first in the line of Maple Box Dolls to be released on Kickstarter May 21st, 2016.
"As a mom, I was unhappy with the doll options available in the store aisles today. I really wanted to give our girls dolls that celebrated childhood, taught life lessons and encouraged the simplicity of fun and experience," says Shauna. "We are excited to bring such an innovative and timeless concept [ dolls and crafts ] to the 21st century with the monthly subscription-based model."
Joyful Jenny is the first product available from Maple Box Dolls. In Joyful Jenny's debut story she learns that Joy is a fun and easy way to get through difficult situations. "We want to help give parents the tools to teach soft skills and also have fun curated experiences delivered monthly."
The monthly box includes a 9.5" character doll along with her 8.5 x 6.5 book that introduces little girls to the life behind the doll. Also included is a recipe to complete, a craft to make and a charm to attach to the little girls very own Maple Box Doll charm bracelet.
Monthly cost of box is $39.95 and is geared towards little girls aged 4 - 9 years old.
Shauna Altes, a successful female entrepreneur, founded Maple Box Dolls in 2015 when she noticed that there was a lack of sweet fun dolly options for young girls to be found within a realistic price point. She saw how parents were struggling to find the time to curate fun experiences with their kids and decided to marry the time proven doll industry with the convenient modern subscription based business model.
Maple Box Dolls is launching on Kickstarter to a very excited following of moms and little girls.
The company is releasing each new character doll in the line for a total of 12 doll sets that will continue to build on the Maple Box Dolls story
About Maple Box Dolls
Maple Box Dolls is a toy company founded in 2015 by Shauna Altes, a female entrepreneur and business owner from Daytona Beach, Fl., and currently operating out of the University of Central Florida Business Incubator at the Daytona International Airport. Maple Box Dolls is focused around creating experiences for parents and little girls, with the characters featured in Maple Box Dolls stories demonstrating sweet, positive life lessons in this highly interactive fashion. Maple Box Dolls nurtures a generation of girls who are more confident, and courageous by teaching them powerful life skills. Learn more about Maple Box Dolls at mapleboxdolls.com and follow on Facebook at Facebook.com/mapleboxdolls and Instagram at instagram.com/mapleboxdolls