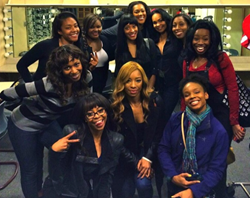 Fort Lee, New Jersey (PRWEB) December 14, 2013
"Saturday Night Live" Executive Producer Lorne Michaels has taken action to address concerns in recent months over the absence of a black female cast member on the "SNL" stage since Maya Rudolph left the show in 1997. In the latest blog from Marble Media LLC's OMFGGossip.com website titled, "Saturday Night Live Holds Auditions for Black Female Cast Member," guest blogger Liz Ernst shares insight from Michaels on the unpublicized auditions, held in New York and Los Angeles the Sunday and Monday after Thanksgiving.
According to The New York Times, Arts and Entertainment website Gothamist.com broke the story on the secret auditions on Dec. 12. Michaels told Times Reporter Bill Carter that the talent turn out was so impressive, the show may be adding two new cast members instead of one. Casting calls held in October narrowed the short list of candidates for the coveted comedy cast down to 25, and Michaels is enthusiastic about the prospects.
Since September, "SNL." has been fielding increasing criticism over the absence of black female cast members, not only since Rudolph's departure but throughout the show's 38-year history. Comments from two of the show's black male cast members, Jay Pharaoh and Kenan Thompson, triggered plans to hold auditions when Thompson told Michaels he was tired of dressing in drag to play female roles in every skit that called for a black woman.
Michaels explains that the lack of diversity in the "SNL" cast is nothing more than the results of his process for choosing actors, which he claims is based purely on talent. However, critics point out that there is no shortage of comedic talent in the female African American community.
Michaels says he was impressed with two comedians he saw performing in Chicago this past fall, but when they were brought to New York to audition, their talent didn't translate well on stage.
"We're all about talent," Michaels told Carter.
Michaels stopped short of crediting the decision to hold auditions on the growing clamor to fill this void in his cast, but he did concede that it was "100 percent good for the show to have an African-American woman" in the troupe.
The new cast member (or possibly members) will debut in January.
OMFG Gossip is a part of Marble Media LLC's conglomerate of content-rich information distribution blogs offering tips, advice, encouragement and gossip on everything from fashion to health, marriage to tech consumer news and much more. For more information, visit the OMFGGossip website or email info(at)OMFGGossip(dot)com.
About Marble Media LLC:
Marble Media LLC is a creator of high-quality, content-rich blog sites that provide expansive coverage of relevant information to readers who make up a wide range of demographics. The Marble Media LLC team of expert writers covers a wide range of specialties including travel, food, health, fitness, social media, marriage, parenting, technology, weight loss, fashion and much more. For more information on Marble Media LLC's offerings and advertising opportunities, visit the http://www.marblemediallc.com or email sales(at)marblemedia(dot)com.
###