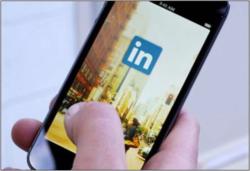 It's safe to expect a more consistent stream of upgrades from LinkedIn in the future.
FORT LEE, New Jersey, (PRWEB) July 05, 2013
Social media sites have been focusing on mobile technology for the past couple of years in the never-ending competition to reach as many users as possible. Long trailing other social media sites in delivering mobile applications that make much sense to users, LinkedIn appears to be catching on. The business-centric social media site has announced its second major mobile upgrade in less than six months according to the July 3, 2013 SocialTechNews.com blog titled, "LinkedIn Gives Us Another Mobile Upgrade".
Considering that prior to April 2013. LinkedIn had not significantly improved its mobile systems for almost two years, the upgrade took many in tech world by surprise. The seemingly simple upgrade is important for LinkedIn users since it extends what they can do from a smart phone or tablet on the site.
"Prior to this upgrade, smart phone and tablet users could only search for other people on the LinkedIn site," says Social Tech News contributor Liz Ernst. "The new upgrade allows users to search for companies, groups, and jobs, which only makes sense since LinkedIn all about business networking.
"The company has been admittedly slow to get with the mobile trends, but it appears they are catching up despite mistakes along the way."
In the spring of 2013, LinkedIn added SnapApp, a new polling app, to its site, which is promptly retired June 30.
LinkedIn also spent $90 million to secure Pulse, a newsreader app startup, which may prove more promising.
"It's safe to expect a more consistent stream of upgrades from LinkedIn, and we plan to keep our readers up-to-date on its progress," Ernst says.
For more information, visit the SocialTechNews.com website or email [email protected]
About Marble Media LLC:
Marble Media LLC is a creator of high-quality, content-rich blog sites that provide expansive coverage of relevant information to readers who make up a wide range of demographics. The Marble Media LLC team of expert writers covers a wide range of specialties including travel, food, health, fitness, social media, marriage, parenting, technology, weight loss, fashion and much more.
For more information on Marble Media LLC's offerings and advertising opportunities, visit the MarbleMediaLLC.com website, or email sales(at)marblemedia(dot)com.