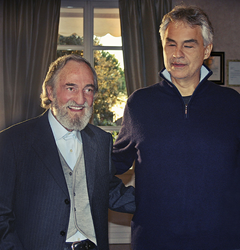 Pier Franco Marcenaro and Andrea Bocelli
(PRWEB) March 06, 2016
Man Center awarded the Triennial Prize "Art, Science and Peace" for 2015 to the famous tenor and singer Andrea Bocelli. The prize has the aim of encouraging the use of the Arts and Science for the moral and spiritual elevation of human kind and to promote their peaceful living together. In this way Bocelli takes his art, which elevates the spirit and makes men brothers, all over the world, beyond all barriers of race, nation and religion.
On the occasion of awarding the prize, Bocelli received also a CD with instructions for meditation, in its most ancient and elevated discipline, which was of the Apostles and the Fathers of Christianity, as well as the greatest Mystics and Masters of the main religions, since the Divine Power has always manifested to the chosen ones in the two primary forms of Celestial Light and Harmony. The tenor then revealed that he practiced meditation every day, to regenerate himself from the stress of daily life, nourish his spirit and increase his love for humanity that surrounds us.
Andrea Bocelli said he wanted to visit the Monastery of Sargiano on the hills covered in woods near Arezzo, Italy, to savour the quietness of this place, where he is naturally welcome.
(Photo: Andrea Bocelli and Pier Franco Marcenaro)