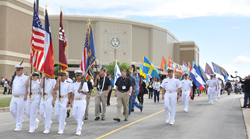 We want individuals to be sensitized to the issues of the Holocaust and take it forward in their own communities. - Chris Ege
COLLEGE STATION, Texas (PRWEB) April 16, 2019
Sunday, April 7th, was a day of miracles. We watched as the day moved from dire warnings of extreme storms and tornadoes to the parting of the sea of clouds to allow over 500 dedicated souls to complete the 2-mile March of Remembrance around the campus, from stories of suffering and sorrow to extreme bravery and to the invitation for Jews and Germans and others needing history to be rewritten on their hearts, to gather in a sea of hugs and understanding.
The 2019 March of Remembrance took place in Bryan College Station, on the campus of Texas A&M University at Reed Arena. The organizers were aware that not only does the general public need to be reminded of the great tragedies of the Holocaust during the Second World War, but also young people around the world and on college campuses need to know the truth about that period of history. Often they read mixed messages about this moment in history and need more than lectures and textbook readings to really understand why and how this must never be allowed to occur again. To that end, the service before the march consisted of inspirational music, including the national anthem of Israel, "Hatikva"; visuals, including an interpretive painting by Kat McMullen with elements of the March, the A&M campus and pictures of Bella Sandor and Margit, relatives of Rozalie Jerome, National Director of the Texas Marches -- relatives she never met because they perished in Auchwitz; news photographs from the Holocaust and the war; the 139th Field Hospital Living Historians who assumed personae ranging from an Army nurse to a soldier to a very convincing and knowledgeable Gen. George C. Patton portrayed by Denny Hair of Patton's Third Army Living Historians. Shofars sounded before and after the service and during the memorial walk, and blessings were pronounced by Rabbi Dr. Peter Tarlow, Rev. Chris Osborne, and Mr. Steve Finkelman (a Levite). Mayor Karl Mooney and Chancellor John Sharp addressed the audience, and A&M students took part by speaking and participating as Maroon Coats and Cadet Corps. Most importantly, there were speakers– one child survivor of a prison camp and other descendants of survivors – plus Germans expressing their grief over the parts taken by their country and families in the horrors of the Holocaust.
It was an honor not only for the March of Remembrance to be hosted on the campus of Texas A&M University but to have Chancellor John Sharp speak as well. He reminded the crowd that "although it is not at the scale of the Holocaust, what happened inside the Holocast is happening right now…all over the world. The only thing necessary for evil to prevail is for good to stay silent." He also boasted that A&M's Hillel was the first in any college in the nation. Rabbi Dr. Peter Tarlow, Rabbi Emeritus of Texas A&M Hillel, with thirty years of involvement, and past president of the Texas Holocaust and Genocide Commission reminded the crowd that the theme is From Holocaust to New Life, that the event started with the threat of terrible storms and ended with clear skies, reminding the participants that theirs was a walk of commitment not to be bystanders but to be upstanders from now on. He joined with Rev. Chris Osborne, title sponsor and senior pastor of Central Church of Bryan College Station to give the final Aaronic blessing in Hebrew and English.
Proclamations were read by Mayor Karl Mooney and Rev. Chris Osborne. Both were very encouraging, one recognizing the purpose of the March in College Station and the other honoring the relationship between the Southern Baptist Convention, Jews and the State of Israel.
The March is about Remembering, Reconciling and Taking a Stand. Or, as former A&M professor and descendant of a Holocaust Liberator David Lawhon said, "Stop the hate and don't be a bystander."
There are not many living Holocaust survivors left to share their Memories, but Ruth Steinfeld spoke of her escape from Dachau Concentration Camp at age five, and subsequent years hiding from the Nazis throughout France before coming to the United States. Rozalie Jerome, national director for the March of Remembrance Texas whose parents survived the Holocaust said, "We're remembering the Holocaust survivors and letting their voices be heard and their stories told, especially with the increase of anti-Semitism that's happening again." Israel's Consul Omer Chechek-Katz told the audience that he adopted his wife's last name, Katz, to Remember her family lost in the Holocaust.
Michael Ott, Germany's Deputy Consul to Houston, and Pastor Stefan Haas and his son Samuel Haas from Leipzig, Germany, attended with a message of reconciliation. You can see an interview with local television station KAGS here, as Samuel tells about his past as a Neo-Nazi and how he researched his history and learned that all four of his great-grandfathers were Nazis. His father said, "I'm standing here for my country, Germany, and I want to say that I am so sorry for what my country did to you and especially to you, my Jewish friends."
Everyone, speakers, volunteers and marchers alike, was present to take a stand, or, as the worldwide March of Life/March of Remembrance puts it, to be upstanders. Student leaders who spoke to the crowd were Amy Sharp, Texas A&M University Student Body President, speaking out against anti-Semitism, and Kaitlyn Dillingham, president of Christians United for Israel (CUFI), who spoke of the anti BDS bill, Support of Aggie Israelis and Protection of Jewish Students Resolution, passed last year in the Student Senate. The Corps of Cadets were recently honored by the Holocaust Museum Houston. The Texas Holocaust and Genocide Commission was represented by Chair Lynne Aronoff and Dr. Clifford H. Spiegelman, its inaugural Official Statistician, who is leading a study of the inter-generational effects of the Holocaust -- genetic, psychological and economic. He also related the tragedy of the death of Joyce Feinberg, in the Pittsburgh synagogue massacre during her husband's funeral.
Associate National Director for March of Remembrance Texas, Chris Ege said, "We're little teams of ordinary people with an extraordinary passion, and we want individuals to be sensitized to the issues of the Holocaust and take it forward in their own communities and their own churches and their own spheres of influence." There will be other marches this month, in the US and, at last count, in 60 other countries. Last May, Israel hosted the March of Nations on the 70th anniversary of the founding of the state of Israel. The March Of Nations 2019 Compact will take place in Israel June 08-20, 2019.
Plans are already underway for events in the area next year, as schools, churches and other organizations join with the March of Remembrance in Remembering, Reconciling and Taking a Stand. And don't mind the weather, as miracles happen every day.