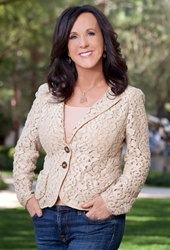 Passion excites and compels you. It makes your life rich and extraordinary
(PRWEB) April 22, 2015
Marcia Wieder is an expert at making dreams come true. Traveling the world as Founder and CEO of Dream University, Marcia shares her message of a passion-filled life with millions of people all across the globe. She is a charismatic speaker as well as a renowned author, reaching as many people through as many different mediums as she can.
Marcia's belief is that all of our personal dreams matter and everyone should strive to achieve those dreams, no matter their obstacles. With her Dream University, Marcia's methods are being utilized by over 1,000 Dream Coaches who help spread her message to their own companies, communities, prisons, women's shelters and schools. If someone doesn't have access to a Dream Coach, all they have to do is pick up on of Marcia's books and they will quickly be able to understand just what her vision is.
Currently, Marcia is working on transforming her lifetime of experience into a book for her upcoming release "DREAM Clarify and Create What You Want." It will feature the passion of her inspiring messages and the tangible teachings Marcia has been delivering for over 25 years. The goal of DREAM is to show the reader how to empower themselves and turn their dreams into reality.
This book walks readers through Marcia's own process and gives them hands-on exercises that will help them build their own personal record of everything they've learn in the process. This allows them to stay on track and see how they can go about accomplishing the dreams that they have set before themselves. Marcia has dedicated her life to helping people get more out of their own lives, and DREAM is a wonderful example of all of Marcia's hard work over the years, being given directly to her readers for their personal benefit.
Marcia Wieder:
Dream University's CEO, Marcia Wieder is a long established thought leader on visionary thinking. As Founder of The Meaning Institute, she teaches people to create and live fulfilling lives. She's been a columnist for the San Francisco Chronicle, writes for Huffington Post and is the author of 14 books. She appeared often on Oprah and was featured in her own PBS-TV show called Making Your Dreams Come True. She has taught at Stanford's Business School and as president of the National Association of Women Business Owners, she assisted 3 U.S. presidents. She is a member of the Transformational Leadership Council and on the advisory board for the Make-A-Wish Foundation.