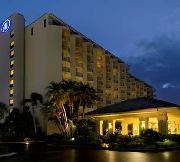 Our speakers are perfect for Primary Care CME. They are experts in their field and are able to give the primary care professional many useful clinical pearls. -- Barbara Lyons, VP of CEC
Palm Coast, Florida (PRWEB) December 18, 2013
Continuing Education Company, a non profit Primary Care Education Company, has just released their faculty listing for the Essentials in Primary Care Winter Conference being held at the Marco Island Hilton February 3-7, 2014
The mission of Continuing Education Company, Inc. (CEC) is to improve public health by developing and providing educational opportunities to advance the skills and knowledge of physicians and other healthcare professionals. This mission is accomplished by assisting healthcare professionals in assessing their educational needs and providing them with evidence-based education which meet those needs.
"Our speakers are perfect for Primary Care CME. They are experts in their field and are able to give the primary care professional many useful clinical pearls," says Barbara Lyons, VP Medical Education.
Every speaker for Continuing Education Company is still in active practice and many are involved with cutting edge research and guideline committees. For the Marco Island February 3-7, 2014 conference, the faculty listing is as follows:
Jan Basile, MD , FACP, FASH
Seinsheimer Cardiovascular Health Program
Professor of Medicine
Division of General Internal Medicine/Geriatrics
Medical University of South Carolina
Charleston, SC
Robert D. Brook, MD
Associate Professor of Medicine
Division of Cardiology
University of Michigan School of Medicine
Ann Arbor, MI
H. James Brownlee, Jr., M.D.
Medical Director
Monsour Executive Wellness Center
Former Professor and Chairman
Department of Family Medicine University of South Florida
College of Medicine
Tampa, Florida
Clarence Legerton III, MD
Assistant Professor of Medicine
Medical University of South Carolina
Private Practice
Low Country Rheumatology
Charleston, SC
David M. Plourd, MD, FACOG
Assistant Professor
Obstetrics & Gynecology
Naval Medical Center, San Diego
Clinical Instructor, UC San Diego
San Diego, CA
John H. Post III, MD
Orthopedic Surgeon
Medical Director
Training Bible Coaching
Rock Star Triathlete Academy
Charlottesville, VA
Matthew R. Weir, M.D.
Professor and Director
Division of Nephrology
University of Maryland School of Medicine
Baltimore, MD
Michael D. Whitaker, MD
Assistant Professor of Medicine
Division of Endocrinology
Mayo Clinic
Scottsdale, AZ
The Essentials in Primary Care Winter Conference runs from February 3-7, 2014 from 8am to 12:15pm each day. There will be a question and answer session after each presentation so primary care providers can use that time to ask for additional information or to clarify a point.
For more information on registration, accomodations or agendas, please visit the company's website at http://www.cmemeeting.org.
Continuing Education Company, Inc. (CEC) is an independent, non-profit, 501 (c)(3) continuing medical education organization. They have been developing and presenting continuing medical education programs for over 21 years. Their mission is to develop and provide educational opportunities to improve the skills and knowledge of medical and healthcare professionals. They accomplish this mission by offering American Academy of Family Physicians (AAFP) accredited CME lectures, symposia, and conferences.
Educational activities are developed with the guidance of Continuing Education Company's Curriculum Advisory Committee. The committee, lead by an on-staff Medical Director is comprised of physicians, pharmacists, educators who have extensive clinical and CME experience.