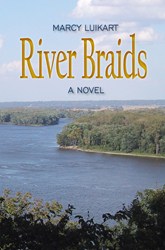 "A breath of fresh air. I recommend the book as perfect for an afternoon read in the park, a plane journey or anytime you want a good story."- Kathryn Woolf, Goodreads.com
Santa Barbara, CA (PRWEB) August 02, 2013
What is the 'Aha!' moment that inspires a great summer novel? For Marcy Luikart, author of the gripping dramatic novel "River Braids," it involved uncovering history, hidden in a small, American river town. Riding the Mississippi River on a homemade raft with her husband led Luikart to discover a bar that was once a rowing boat club during the 1904 Olympics, a time when American Indians were banned from participating.
Just as the Mississippi River braids with other rivers, Luikart weaves her characters' riveting stories of integrity and injustice in her "Huck Finn-like" tale that encompasses the 1904 Olympics.
Luikart's publisher, Sea Hill Press, in Santa Barbara, CA, announces that the author will launch her 2013 book tour in August with readings and signings of her five-star reviewed novel "River Braids."
From August 3 - September 1, 2013, Sea Hill Press is hosting a limited-time promotion, offering a signed copy of "River Braids" and free shipping when the book is purchased through seahillpress.com.
"It's the type of book you don't want to give to a friend when you finish, because you know you will want to read it again. The reviews are all saying the same thing—love, love, love this story, give me more," says Sea Hill Press Publisher, Greg Sharp.
Set over a 100-year span, from 1904 to 2004, "River Braids" weaves together the histories of three people: Joe Barton, a promising 1904 Olympic rower of Native American heritage, his young love, Annie, and Joe's grandson, Sonny Barton. A story of yearning to belong, this novel chronicles the struggles of not fitting into any world, while fighting for personal pride and integrity in an unjust society.
Goodreads and Amazon reviewers gave "River Braids" five-stars, calling it "Captivating!" "A breath of fresh air." And a writing style that is "Hemingwayish." One finished their review by saying, "This should be called the 'River of Life,' it's wonderful," and recommended the book as "perfect for an afternoon read in the park, a plane journey or anytime you want a good story."
Luikart's conception of her novel led her to guest rowing with University of California-Santa Barbara's Rowing Team to learn the realities of the sport. Also an avid creative adventurer, oil painter and fiddler, Luikart confesses, "I'm a life artist who explores the heart of humanity through words."
Luikart will share her research adventures at her official book launch signings while her recent and upcoming interviews and podcasts can be found on Writers Voices, the TV talk show "Literary Gumbo" "The Author Show," an online talk show and on a writing Twitter chat, "Writer's Kaboodle."
Besides its five-starred reviews and reader referrals, support for "River Braids" is growing nationally. Local regional and national organizations, "Yes to Success" in Chicago, UCSB's Rowing Team, Santa Barbara Ski & Sport Club and Santa Barbara's School of Squash - an afterschool academic and athletic program, all recommended Luikart's book to their supporters.
For more information on the "River Braids" book tour or to book Luikart for an event or media interview, please contact the publisher, Sea Hill Press in Santa Barbara, CA at (805) 845-8636, or visit their site at seahillpress.com.
About the Author
Luikart's short stories have appeared in "The Iconoclast," "Bellowing Ark," "Pangolin Papers," "Beginnings," "QWF," and the "Connecticut Review." Luikart is a mother of two. She lives in Santa Barbara, California, with her husband, Ralph, and their miniature poodle.
About the Publisher
Sea Hill Press is represented in the book trade by Continental Sales Group, Chicago, IL, and distributed by Innovative Logistics, Lakewood, NJ. "River Braids" (ISBN 9781937720162) is available though all major book chains and online stores.