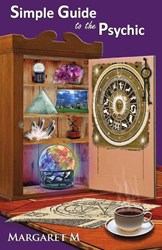 For those of you who feel you are psychic, it is important to know that sometimes dreams can be of clairvoyant nature. In my early days of development when I wasn't yet channeling the information given from Spirit, I often had dreams which came true.
Issaquah, WA (PRWEB) August 11, 2013
Margaret McElroy releases her kindle book Simple Guide to the Psychic. In Simple Guide to the Psychic, Margaret explains in simple terms the world of psychic phenomena that, whether people realize it or not, everyone come into contact with it in some form. Margaret's delightful British/Aussie style & down-to-earth delivery make this an entertaining & enlightening treatment of the subject. During the course of her life, Margaret has encountered many experiences on how the world of Spirit affects one's daily lives. She has put these experiences together in this amazing book designed to provide guidance to others on their path of self-discovery.
Margaret McElroy is an internally renowned clairvoyant, spiritual teacher and channel for the energy known as Maitreya. Margaret has been channeling Maitreya since 1992, and has traveled all over the world to bring this spiritual energy to the globe. In 1999 Margaret even channeled Maitreya to a group within the United Nations. The name Maitreya is well-known in Eastern culture as the future Buddha, and he can also be referred to by the names Maitreya Buddha, or Mi Le Fo. Maitreya's messages are about living a life based on your own truth and being your own master. He posts regular messages through his channel on his Maitreya World Teacher Facebook Page.
Simple Guide to the Psychic by Margaret McElroy is available in the Kindle Store on Amazon.com for $2.99. From reincarnation and past lives to spirit guides, auras, dreams crystals, pyramids, energy grids, astrology and spiritual healing, Margaret illuminates the simplicity behind an obscure and often misunderstood topic. To find out more about Margaret, her teachings and other upcoming books, visit MargaretMcElroy.com.