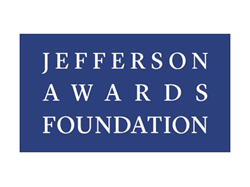 "I'm thrilled to join the Board of Governors and look forward to working with the Jefferson Awards Foundation team in expanding the reach and impact of its exceptional service programs."
New York, NY (PRWEB) August 26, 2015
The Jefferson Awards Foundation, America's most prestigious and long-standing organization dedicated to activating and celebrating public service, announced today that Margaret Sullivan has joined the nonprofit's Board of Governors. Sullivan served as COO of United States Agency for International Development (USAID) for the Obama Administration. Sullivan is currently the founder of Sullivan Strategy.
"The Jefferson Awards Foundation is happy to welcome Margaret Sullivan to the Board of Governors," said Hillary Schafer, Executive Director of the Jefferson Awards Foundation, "Her commitment to our vision and passion for youth and service make her a great addition to the organization, and we can't wait to engage her as we grow our mission."
Sullivan learned about the Jefferson Awards Foundation and its mission during her early professional years in Washington, D.C. Throughout her career in government and the private sector, public service has always animated her work. It was after discussing the JAF vision with Executive Director Hillary Schafer and Chairman of the Board of Governors Joseph Sanberg, that Sullivan was moved to get involved.
"I'm thrilled to join the Board of Governors and look forward to working with the Jefferson Awards Foundation team in expanding the reach and impact of its exceptional service programs," said Margie Sullivan.
Margaret Sullivan is the CEO of Sullivan Strategy, an advisory firm focused on corporate growth strategies. From 2011 to 2014, Sullivan served as Chief Operating Officer at the United States Agency for International Development. Prior to joining the Obama Administration, she served as Director of Political Risk Management at Farallon Capital Management, in San Francisco, California. Sullivan served in a variety of roles both on Capitol Hill and in the Clinton Administration. Sullivan helped found and then served on the board of an Oakland-based community development bank, Beneficial State Bank. She also serves on the boards of the Private Capital Group for Africa and United States Global Development Lab.
"Margaret's experience as a leader on matters of national and international service make her a unique talent for our leadership team," said Joseph Sanberg, Chairman of the Jefferson Awards Foundation Board of Governors. "Margaret believes in the virtue of public service and sets a worthy example for the many young people we seek to inspire."
About the Jefferson Awards Foundation
The Jefferson Awards Foundation is the country's most prestigious and longest standing organization dedicated to powering and celebrating public service. JAF's programs accelerate and amplify service, training and activating Americans to take action,and to be leaders in schools, communities, workplaces, and the world. With celebration, JAF says thank you, shares the stories of America's best citizens, empowering them to do more and inspiring all to take action.To learn more about the Jefferson Awards Foundation, visit: JeffersonAwards.org or engage with our community on Instagram, Twitter and Facebook.