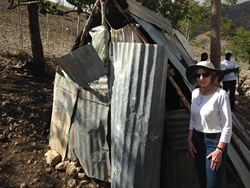 "But God Ministries is making a major, lasting impact on the lives of these well-deserving people.
Temecula, CA (PRWEB) October 21, 2015
"In addition to sharing the love of God and providing aid, But God Ministries also creates jobs," said Margaret, who recently visited Haiti and helped in a clinic. "I saw the two communities, Galette Chambon and Thoman, that are now operating on a plan that is allowing Haitians to create viable communities out of virtually nothing. But God Ministries has designed the plan to be a lasting, permanent program sustained by the Haitian people."
But God Ministries' schools, one of which Margaret visited, were initially built for first to sixth graders, but this year they opened up their first ninth grade class. There are State schools in Haiti, but not anywhere near enough room for the numerous children. There are also long waiting lists to get into a school so the private schools are very much welcome and needed.
Since the 2010 earthquake that devastated much of Haiti, But God Ministries has completed a plethora of projects in the country, including two medical clinics, supporting two full-time Haitian doctors who have seen approximately 40,000 patients, built more than 75 houses for families living in tent cities or mud huts, built an orphanage with 14 children and room for 18 more, built two new churches, dug four water wells and hired forty-seven full-time Haitian employees, with hundreds of others receiving part-time jobs.
"But God Ministries is making a major, lasting impact on the lives of these well-deserving people," said Margaret. "However, water resources are still limited, and much of their day is spent gathering water. Villagers still get very sick and sometimes die from infections from the polluted river."
As the 2015 International Day for the Eradication of Poverty theme was "Building a sustainable future: Coming together to end poverty and discrimination," Margaret is urging the public to do its part by getting involved. To get involved with But God Ministries, please visit butgodministries.com/how-to-get-involved.
About Margaret Turner, State Farm
Margaret Turner has been a State Farm Agent since 1988 and has been a recipient of its Legion of Honor Award for 25 years. For more information, please call (951) 699-0940, or visit her Google+ page. The office is located at 29377 Rancho California Road, Suite 204, Temecula, CA 92591.
About the NALA™
The NALA offers local business owners new online advertising & small business marketing tools, great business benefits, education and money-saving programs, as well as a charity program. For media inquiries, please call 805.650.6121, ext. 361.