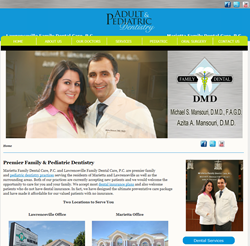 We look forward to providing free dental care to our neighbors in need.Dr.'s Michael & Azita Mansouri
Atlanta, GA (PRWEB) October 08, 2014
Dr.'s Michael & Azita Mansouri are hosting their 4th Annual Free Dental Day on November 8th, 2014. The event is anticipated to start as early as 4:00am ending around 4:00pm. The purpose of the event is to provide dental care to neighbors in need. For patients who are receiving care, the limit will be one procedure per patient: either a filling, an extraction, or a cleaning.
Last year, Marietta Family Dental Care teamed up with 16 other dentists and over 70 volunteers. With the volunteer dentists and staff members who offered their time and help, Marietta Family Dental Care was able to assist almost 280 people during last years event. Over $150,000 worth of Dental Care was given away at the 2013 community dental care day! This is a first come, first served event. Based on previous years turnout, the staff at Marietta Family Dental Care recommends coming in early. Last year people started lining up as early as 7:00am the day before the event. The event will be located at 4720 Lower Roswell Road, Marietta, GA 30068.
Marietta Family Dental Care, P.C. is a family dental practice serving the East Cobb & surrounding areas. Marietta Family Dental Care offers general dentistry as well as cosmetic, oral surgery, endodontics, & pediatric dentistry. For more information, please visit http://www.naturalsmile.biz and click on "2014 Free Dentistry Day" or visit http://www.dentistryfromtheheart.org.