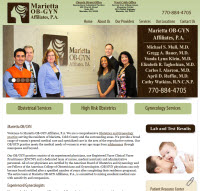 Its surgical applications in general and more specifically in the field of Gynecologic surgery are only expected to grow in the future... We are pleased to be at the forefront of this exciting trend. - Dr. Carlos Alarcon
Atlanta, GA (PRWEB) March 04, 2014
Marietta OB-Gyn Affiliates, P.A. is pleased to announce that their physician, Dr. Carlos Alarcon, is the first physician in Georgia to use the da Vinci® robot outfitted with FIREFLY fluorescence imaging in surgical treatment for endometriosis. This cutting-edge technology was cleared for use in robotic surgery by the FDA in February of 2011. The integrated fluorescence imaging capability made possible by FIREFLY provides real-time, image-guided identification of key anatomical landmarks using near-infrared technology. FIREFLY enables surgeons performing robotic surgery to benefit from fluorescence imaging with initial use in applications ranging from urology to gynecology.
According to Dr. Alarcon, "Recent research and preliminary studies suggest that with FIREFLY fluorescence imaging, physicians can better identify patients with endometriosis and remove more disease as it improves detection of lesions that are not as obvious with traditional laparoscopy and open techniques. This new technology offers tremendous benefits to patients with endometriosis and confirms our philosophy of utilizing the most advanced technology and techniques available to provide better outcomes and improved patient care for our valued clients."
FIREFLY is currently being used in conjunction with da Vinci® robot for a wide variety of surgical applications including Plastic, Reconstructive, Gastrointestinal, Cardiovascular and Minimally Invasive Surgery. "Its surgical applications in general and more specifically in the field of Gynecologic surgery are only expected to grow in the future," states Dr. Alarcon. "We at Marietta OB-Gyn Affiliates, P.A. are pleased to be at the forefront of this exciting trend."
About Marietta OB-Gyn Affiliates, P.A.:
Marietta OB-Gyn Affiliates, P.A. is an Obstetrics and Gynecology practice with two locations in Marietta, Georgia. Their physicians and Nurse Practitioners provide a broad range of women's general medical care and specialized care in the area of the reproductive system. Marietta OB-Gyn Affiliates, P.A. is dedicated to meeting the medical needs of women in every age range from adolescence through menopause and beyond.
If you would like to get more information about Marietta OB-Gyn Affiliates, P.A., please visit their website at http://www.Mariettaobgyn.com or call their office at (770) 422-8505.