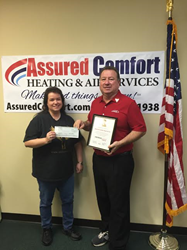 I knew a lot of the executive staff at Lennox were veterans, and encouraged them to support this very worthy organization
Atlanta, GA (PRWEB) June 20, 2015
For years, Lennox International, Inc., has been a leading manufacturer of top quality home comfort systems. Assured Comfort has long been a Lennox dealer, and believes they make the best heating and air comfort systems on the market today. This past April, Lennox went beyond just manufacturing outstanding products by making a $5,000 donation to Assured Comfort's charity of choice, Soldiers' Angels.
Founded in 2003, Soldiers' Angels is a national non profit organization providing aid and comfort to active service men and women, wounded warriors and veterans of the United States Army, Marines, Navy, Air Force and Coast Guard, and their families. With over 1,000 volunteers around the country, Soldiers' Angels provides support in a variety of ways, from sending cards, letters and care packages to deployed service members, to providing laptops and rehabilitation care to wounded service members.
The $5,000 grant from Lennox will go towards Veterans' Affairs (VA) programs in the state of Georgia. "With this generous donation, we will be able to provide hundreds of hygiene kits to hospitalized veterans while they're in VA hospitals, and sack lunches for homeless veterans," says Dianne Moore, service area director for Soldiers'Angels Georgia.
Lennox's donation was facilitated by Jerry Hall, owner of Assured Comfort, who made the request on behalf of Soldiers' Angels. "I knew a lot of the executive staff at Lennox were veterans, and encouraged them to support this very worthy organization," Hall relates. "Our district manager, Mark Butler, was also a big help in facilitating this donation."
Soldiers'Angels Georgia is thankful for the support of both Lennox and Assured Comfort. "These kind of grants are what makes our work possible, so we can have the funds to provide the VA with the exact items they need and ask for," Moore says. "Assured Comfort has been associated with us since 2006, and we are very appreciative of their support as well. They have made financial grants of their own, and have provided a lot of material support by giving us items in kind (donated items) when they're needed. If there's a shortfall somewhere, I can't even begin to count how many times Assured Comfort has come to the rescue."
Hall encourages others to support Soldiers' Angels in any way they can. That could be with financial support, donation of goods or property, or volunteering. To learn how to help Soldiers' Angels Georgia, please contact Dianne Moore by email at dmoore(at)soldiersangels(dot)org or by phone at 770-949-8352.
On another note, don't forget that Assured Comfort now offers plumbing services. From routine plumbing repairs and maintenance, to emergency service and expert equipment replacement and installation, Assured Comfort is ready to accurately access and quickly fix any and all plumbing problems. That includes water leak detection and repair; drain, sewer and rooter line cleaning and repair; replacement of damaged water supply and drain pipes; installation of sinks, toilets, and fixtures; and repair and installation of water heaters. To schedule a plumbing repair or installation, give Assured Comfort a call at 770-942-1938.
About Assured Comfort Heating, Air & Plumbing:
Founded in 2002 by Jerry Hall, Assured Comfort Heating, Air & Plumbing is a family-owned HVAC company serving homeowners and businesses in Douglas County, Cobb County and the entire metro Atlanta area. Their professional team is dedicated to providing customers with high quality heating, cooling and indoor air quality services. They also specialize in energy efficiency, providing home energy audits guaranteed to lower energy costs. On call for 24/7 fast repairs, they promise their customers "You call…we're there…it's fixed…you're happy!" For more information about Assured Comfort, visit http://assuredcomfort.com/ or call 770-942-1938.