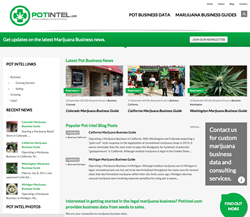 The latest resource for Marijuana Business Data is PotIntel.com.
(PRWEB) September 30, 2013
PotIntel.com is the latest online resource for business intelligence data in the marijuana industry. As the legalization of marijuana opens doors for new business opportunities, it is important that both entrepreneurs and current business owners understand what is required by to operate legally within each state.
The Marijuana Business Guides section of PotIntel.com provides access to in-depth articles that describe the latest news and laws related to marijuana in that particular state. State guides include Colorado, Washington, California, Michigan and more. The site is also building an international guide for places like Amsterdam, Portugal and Canada.
Two of the Most Popular Marijuana Business Guides

Also included on the new PotIntel.com is a section for Pot Business Data, which provides links to state and municipal resources so that business owners may keep abreast of the latest issues governing the legal cultivation, distribution and sale of marijuana in their area.
As the industry continues to grow, so will the demand for quality business data. To learn more, please visit PotIntel.com.