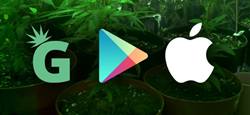 Our app makes it easy for ganjapreneurs to stay up to date in a fast-growing industry.
Seattle, WA (PRWEB) February 04, 2015
A new resource has arrived for anyone building a business in the legal cannabis industry. Ganjapreneur, a website which launched in 2014 and has steadily grown as a source of news, interviews, and business advice for "ganjapreneurs," has officially launched its app on the Apple App Store. Previously, the app was only available via Google Play. The news-reader app is designed to serve as a live feed for the cannabis industry, featuring original articles by Ganjapreneur's writers, many of whom are also contributors for larger media outlets such as Vice, as well as noteworthy news and articles curated from other sources.
"Our app makes it easy for ganjapreneurs to stay up to date in a fast-growing industry. It's also a great resource for finding content to share to social media," said Ganjapreneur's CTO, Noel Abbott. "We also want to help people learn directly from those who pioneering this industry, which is why we have a section dedicated to interviews with entrepreneurs and investors in the space."
While Ganjapreneur's app is primarily a news reader, it features business listings from Ganjapreneur's recently-launched cannabis service directory. This directory includes numerous industry categories such as Accounting, Legal Services, and Consultants, and has grown steadily since its launch in fall 2014. Additionally, the app contains a live feed of the most recent job listings posted on a variety of job boards geared toward marijuana businesses. These jobs are aggregated by Ganjapreneur and the list is updated throughout the day.
The launch of their app in the Apple App Store is the latest move by Ganjapreneur, which has steadily rolled out features geared towards cannabis entrepreneurs and investors. Ganjapreneur recently launched a domain name marketplace for entrepreneurs and venture capital firms to find and purchase premium cannabis domains, and they also have published a slang dictionary featuring popular terms and phrases related to cannabis culture. The dictionary is "open source," meaning that anyone can submit definitions to be published.
The website's stated goal is to "help ganjapreneurs grow." Beyond simply a capitalist who owns a marijuana business, however, the website defines "ganjapreneur" as someone who is "enterprising, courageous, ethical, and fully committed to achieving their goals. Most of all, a ganjapreneur is someone who understands and appreciates the positive effect that the decriminalization and regulation of these industries will have around the world."