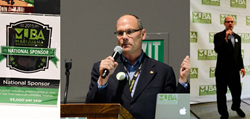 "Your experience, your intellectual property -- particularly in these first couple of years as those industries are coming online -- are very, very desirable."
(PRWEB) August 21, 2015
Online cannabis business resource Ganjapreneur has interviewed David Rheins, founder of the Marijuana Business Association, in the latest episode of its ongoing series of podcast interviews with marijuana entrepreneurs. The MJBA is a national association of cannabis businesses which provides business intelligence, networking, and commercial opportunities to members.
In the interview, Rheins and Ganjapreneur host Shango Los discuss the ways that prohibition-era growers and new entrants to the cannabis space can work together in a regulated industry. "The reality is that we are a diverse group, and just as there are folks who are pro-union, and folks who are 'pro-business' in traditional industries, you're seeing that same spectrum and diversity within cannabis," David explains.
The two also discuss how competition comes into play when cannabis businesses work side-by-side. "[M]any medical patients and providers have organized along collective lines," says David. "So the notion of a collective or social approach to building the industry, or business needs, is nothing new for those of us in the culture."
When asked about the industry's varying levels of acceptance across different regions and cultures, David explains that many cannabis growers have decided to take their knowledge and skills to states that seem likely legalize soon. "[We're seeing that] your experience, your intellectual property — particularly in these first couple of years as those industries are coming online — are very, very desirable," he says.
The podcast is available now through iTunes and the Ganjapreneur.com website, which includes a full transcript.
About Ganjapreneur:
Ganjapreneur launched in July 2014 and has since established a significant presence in the cannabis business world. The website regularly publishes interviews and commentary from leading minds in the industry, and has also launched a B2B business directory, a live feed of job listings from marijuana job boards, a domain name marketplace for start-ups and venture capital firms, and a mobile app for Apple and Android devices which aggregates daily cannabis industry news, business profiles, and other information.