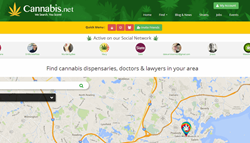 Marijuana lawyer or cannabis attorney, both will be very busy in the next few years.
San Francisco, CA (PRWEB) May 05, 2016
Cannabis lawyers and marijuana attorneys now have a new way to find business, or in reality, have business find them. Cannabis.net, the worldwide leader in all things cannabis, has added lawyers and attorneys to their map that already includes cannabis doctor and dispensaries. The map, which covers the US and Canada is also being expanded to include other countries. With many companies needing corporate set up assistance, intellectual property help, patent information, trade mark writing, and other legal help, adding legal services to the Cannabis.Net map was an easy choice.
"With the marijuana cannabis niche exploding across the country, more and more companies and individuals are looking for legal help in such matters as corporate structure all the way to simple DUI type offenses, " said CEO of Cannabis.Net, Curt Dalton. "The growing legal and medicinal marijuana market is going to need many old school brick and mortar services as well. Sign makers, lawyers, contractors, designers, will have new work to do in this growth niche", added Dalton.
The current Cannabis.Net map will also be expanded to allow "cannabusinesses" to be listed as well. These will include head shops, vapor stores, corporate offices, 501c non profits, and advocacy groups. "There are so many companies that are in the cannabis business that need a place to be found and for people to search in their area for, we are happy to fill in the map for them," finished Dalton. "Right now extracts, edibles, and cannabis oil are near the top of our search volume."
For more information on how to sign up as a lawyer, law firm, or attorney, head to Cannabis.Net and hit the sign up button.