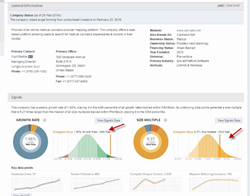 The marijuana and cannabis investment field will be a once in a lifetime opportunity for some smart people.
BOSTON, MA (PRWEB) May 24, 2016
Raising money for startups from venture capitals funds and investors has cooled off over the last few quarters, but not if you in the marijuana cannabis niche. Cannabis.net, which has opened an new round of VC and angel funding, is currently ranked in the 96% percentile for growth based on Pitchbook.com's tracking and analytics. "Being Pitchbook.com top 4% of all startups and new businesses just shows you the excitement around the legal marijuana and cannabis niche. We have had talks with all sorts of investors, angels, VC's, and they can all feel the excitement of the opportunity around the legalization of marijuana and cannabis around the world," said Curt Dalton, managing director at Cannabis.net. " The United States is on the verge of massive legal change, Canada is going full legal on both medical marijuana and recreational marijuana, Mexico is going to allow for legal grow facilities, so we are talking about a North American tidal wave," finished Dalton.
Cannabis.net launched just 3 months ago and has already established a growing social network, full scale mapping for doctors, dispensaries, lawyers, and cannabusiness, as well as popular blogging channels. "The URL, cannabis.net, so powerful and so rare that most investors just here the name and are very interested in hearing our plans. When you look at all the possibilities for the site and our URL, from big pharmaceutical companies, to big growers, to big venture capital funds, it is a once in a life time web address and opportunity. Investors see that." added Dalton.
The site is actively talking to investment groups through the end of June and plans on launching their two new mobile apps in the beginning of July. "Mobile apps will just give our users a great experience on the mapping software, as well as an easy way to read our latest stories. Our social media network app will work so that user can update their status, send instant messages, and communicate in real time with other Cannabis users online." finished Dalton.
For more information please go to Cannabis.net or email curt(at)cannabis(dot)net