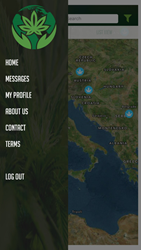 "Leafedin is ensuring it stays on the cutting edge of cannabis technology"
Los Angeles, California (PRWEB) February 23, 2017
After the successful, in terms of both cannabis technology and marijuana industry market share gained, launch of its web application and iOS cannabis app, Leafedin.org now celebrates its android app. This high tech android weed app is available on the Google Play store. This all comes in less than a year for the marijuana tech startup that has registered tens of thousands of users nationwide and become nationally known for both its mobile and iOS app functionalities. LeafedIn.org is a tool in the marijuana marketplace that focuses specifically on person-to-person networking for any cannabis employment or product need. Leafedin.org is committed to providing the most professional, safe, and effective marijuana community for both the mainstream and marijuana industry players. The core of the leafedin app revolves around a real-time map based networking interface that instantly allows users to see local marijuana vendors, cannabis buyers, marijuana employers, and weed workers . There's no charge and it allows users to remain anonymous and discrete. Needless to say from Washington DC to California Leafedin.org has made its impact clear in the marijuana community. The Android app includes all the fundamental functionality of the Leafedin.org web app, yet takes advantage of all the latest products enhancements and updated versions of the Android app are due to be released in the coming weeks.
Leafedin.org can now be accessed on mobile browser on any device, through the iOS app, through the android app, or through classic desktop browsers! This is all in parallel to its rapid growth and market share, which has driven rapid scaling and massive enhancements to the product as Leafedin is ensuring it stays on the front lines of cannabis technology.