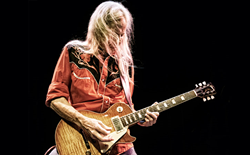 SAN RAFAEL, Calif. (PRWEB) June 24, 2019
Click, a well-respected musician's musician, was one of Austin's best-kept secrets until his CD, Life Is A Good Place, was released in April 2011 and spent more than 12 consecutive months on the country, pop, and Americana radio charts. A lot has changed since then including Click moving to the Bay Area and building a large and passionate local fan base including musical greats Carlos Santana and Elvin Bishop, both of whom have joined him on stage for impromptu jams.
The Hell Yeahs feature a round-robin roster of top-shelf musicians and with Danny at the lead, have played more than 200 sold-out shows during the past two years, and opened for legends Taj Mahal, Cake, Robert Plant, Mavis Staples, Sonny Landreth, and JJ Cale.
So get ready for an anything-can-happen mix of stellar songwriting alternating with blistering blues-rockin' Americana in the tradition of the Texas greats. A refreshing return to smart, sassy blues-inflected country rock. Think Tom Petty crossed with Wilco, spiced with the Southern tradition of Lucinda Williams and John Hiatt.
The venue offers pop-up restaurant dinners, and Peet's coffee, snacks, cocktails, and more are available for purchase. The Kid Zone includes a playground & hands-on project for the little ones and festival shopping is made possible by Good Will Industries.
BOILER PLATE:
WHAT: Hard driving mix of Americana/Country/Blues/RocknRoll, outdoors in a beautiful, safe, natural, family-friendly setting.
TICKETS: From $26. Kids 17 and under free. Details available at http://www.marinjcc.org/summernights
WHEN: Sat. July 27 @ 7 p.m. Doors: 6:15 p.m. Gen Ad/ 6 p.m. VIP/Reserved
SEATING: Gen Adm turf or rear chairs. Reserved Table Seats, Cab Tables & Picnic Tables available.
WHERE: The Osher Marin JCC, 200 N San Pedro Road, San Rafael
PARKING: Ample free street and lot parking.
MORE: Dinners, snacks, coffee, tea, soda, beer, wine, cocktails available for
purchase or bring a picnic. No glass or alcohol allowed through gates.
The Osher Marin JCC's outdoor music series has been created to celebrate diversity, discover commonalities, and bring generations together through live music. The series runs for four consecutive Saturday nights of great music, under beautiful Marin skies in an intimate and beautiful setting.
2019 Summer Nights Series
7/13: New California Soul – Midtown Social
7/20: Afro-Cuban – Ricardo Lemvo & Makina Loca
7/27: Rockin' Country/ Texas-Blues – Danny Click & the Hell Yeahs
8/3: Latin Big Band – Pacific Mambo Orchestra