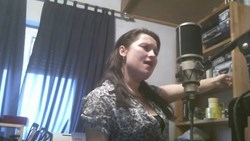 (PRWEB) January 30, 2014
With a passion for singing and a sparkle in her eyes, songstress Marina Godanj, was born to create a splash in the entertainment world. She has a band of fans and followers on Facebook, Twitter, YouTube and Google +, who are wholeheartedly devoted to her sensational voice. The spotlight was recently turned on her for her admirable tribute to iconic singer Whitney Houston. This rendition which was meant as a Whitney Houston tribute shows how effortless it is for her to belt out such a difficult song to sing in terms of pitch and notes.
She has a unique style and voice and her passion for music is evident when you sings and pours her heart out. It is no secret that she deeply admires Whitney Houston and holds her music dearly to the heart. Therefore it only seems natural that she would dedicate this rendition to her much loved idol. She is admired by her fans and they love hearing and watching her performances.
She has always been fervent about bringing music to the masses and more importantly to her fans. This is the reason why she has even done a cover of Adele's Someone Like You and Alicia Key's If I Ain't Got You so that her fans have access to a wide variety of songs. The fact that she sings songs by such powerful singers shows her confidence in voice and even the variations of her pitch and tone. It even goes to prove how versatile she is as a singer and she can make take any song and make it her own.
When asked why she choose to do a tribute to Whitney Houston, the vivacious singer blushes and recounts, "Growing up I have always admired the rise and fall in her powerful voice. I was mesmerized by her stage presence and she was the epitome of what a strong, beautiful and powerful woman should be. She inspired me through the years to pursue my dream and as an appreciation to this muse I decided to do a tribute to her!"
Her eyes well-up as she reminisces of how she put in countless hours of practice and devotion to get to where she is today. She recalls - "I always knew I wanted to be a singer, but I found my true calling when I heard Whitney Houston perform he way she does. The emotions in her voice touched me and I was driven to work harder and got better."
She has received raving reviews and notable accolades for her voice and more importantly her attractive personality. She has a large number of views on her YouTube Channel as people are flocking to hear the sound of her voice and her covers of various popular singers.
About Marina Godanj
A popular folk singer in Croatia, Marina Godanj, was born on January 17, 1985. She is an extremely talented singer with a voice that can render beautifully across various tones and pitches. She has performed in various cities like London, Canada, Montreal, Hamilton and Mississauga.
To know more, visit http://www.youtube.com/user/MarinaGodanjFanClub?feature=watch.