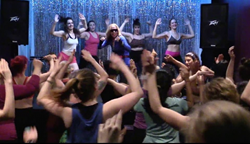 ... an Interactive Musical Theatre WORKOUT Experience!
New York, NY (PRWEB) May 29, 2015
Marina Kamen, a.k.a. MARINA, has lost 100 pounds and utilized her own original music from her High-nrg Fitness catalogue to create this interactive theatrical event. Ms. Kamen was awarded the first ever People's Choice Award for Health & Fitness Podcasting in 2005. Ms. Kamen now brings High-nrg Fitness LIVE to NYC to inspire people of all ages.
For location and show times, please visit http://www.marinashighnrgfitness.com.
High-nrg Fitness LIVE! is a new and unique Interactive Musical Theatre Experience. Marina Kamen is joined by cast members who sing, dance and play multiple instruments on stage. They share their stories of health struggles throughout the show while encouraging all attendees to simply walk in place or dance, workout and join in the excitement. All music is written, produced and performed by Marina Kamen, a 30-year veteran of both the music, theatre and fitness industries, whose work has been used by Disney, Kelloggs, Columbia Records and hundreds of TV & Radio commercials.
Marina's moto of "Hear the music, feel the beat, and never stop movin' in your body and your life!" has helped thousands of people around the country for years. The concept of High-nrg Fitness is "entertainment to present fitness" and not just fitness trying to be entertaining. There is a big difference. Aspirational story telling through musical theatre while the audience moves to the beat is the type of entertainment this country needs where obesity is a health issue.
The theatrical workout show is now trending: Susan L comments: "I thought I was going to a Zumba-like class but was I surprised. The whole idea behind High-nrg Fitness LIVE is to just move while watching a musical theater stage show. It was a blast."
About Marina Kamen
Marina Kamen is a Certified Fitness Expert, a Grammy Nominated & Billboard Charting Recording Artist, Composer, Producer, Director, Casting Director, Choreographer, Vocalist, Violinist and 56-year-old mother of three children now ages 22, 24 & 28. Kamen has been the co-owner of Kamen Entertainment Group, Inc. together with her husband of 32 years. Kamen is a Television & Entertainment Production Company having received over 140 Industry Awards since launching in 1987. Marina has appeared on ShopNBC, PBS, Noggin', been covered in The LA Times, The NY Post and Woman's World Magazine. She has worked with an array of celebrities including Liza Minnelli, Patti Labelle and James Earl Jones. Marina's voice has been heard on countless commercials including Verizon, Tourneau & Exxon Mobile.
To learn more, visit http://www.kamen.com