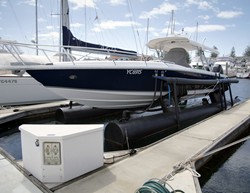 6 tips are aimed at assisting businesses operating in the Marine Sector to not breach the terms and conditions of their policy, as well as making sure the basis of cover is correct at the time of policy inception
(PRWEB) October 31, 2014
UK Marine Trades Insurance specialists Insurance Risk & Claims Management (IRCM) have published 6 tips for Marine businesses to keep their insurance programmes valid ahead of the onset of winter and the inevitable season of storm and flood claims.
Mark Elcocks, IRCM's Specialist Risks manager said "Buying insurance at a distance, as many small businesses do these days, means marine traders may not always get the advice and guidance they need to ensure their Marine Trades Insurance programme truly meets their demands and needs. Even when they enjoy the benefits of a face-to-face consultation some of the important terms and conditions of their protection could be lost amongst vast quantities of paper or pdf that comprise the minutiae of policy wordings, endorsements and schedules. Looking at three of the common policy wordings available to marine traders reveals documents ranging from 72 pages to 116. Add to this a swathe of additional pages of schedules and warranties and it's not surprising that some traders are unaware of certain terms imposed on them by their insurers that could invalidate their cover if breached.
"Our 6 tips are aimed at assisting businesses operating in the Marine Sector to not breach the terms and conditions of their policy, as well as making sure the basis of cover is correct at the time of policy inception.
The 6 tips for UK Marine Traders can be found at http://www.marineinsurance-ircm.co.uk/6-tips-keep-marine-trades-insurance-valid
Additionally, traders can download a free flood and windstorm management checklist from the IRCM website's resource page at http://www.marineinsurance-ircm.co.uk/about/marine-news-white-papers