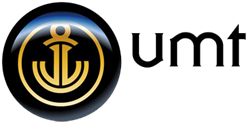 Fort Lauderdale, Florida (PRWEB) October 02, 2014
UMT International was recently commissioned to custom craft an aluminum spiral staircase for the new headquarters of DG Communications, a leading advertising group located in South Florida. DG moved to the trendy "Avenue" section of Delray Beach, the heart of America's 2014 "Most Fun Small Town" as declared by both Rand McNally and USA Today. With over 20 years of experience building aluminum and stainless steel marine products, UMT was chosen by DG for its' reputation as first class custom metal fabricators.
Located in Fort Lauderdale, Florida, UMT International boasts a highly trained team of fabricators and welders with 20+ years of experience building yacht stairs, spiral stair cases, stainless steel railings and high quality custom fabrication metal products. With specialization in yacht quality finished metal products for yachts and super yachts, DG turned to UMT where the pinnacle of quality, known as "yacht finish" is tried and true. UMT has decades of experience with tricky, demanding custom metal fabrication projects and the staircase commissioned by DG was right up their ally.
The aluminum stairs that UMT International built for DG are unlike typical spiral staircases with a handrail and vertical rails on each rise. Instead, UMT created a ribbon-like wrap of aluminum that was specially and carefully bent to create a curved side wall that wraps around the steps. The overall effect is contemporary in feel and reminiscent of Frank Lloyd Wright designs, architect of the Guggenheim Museum. Spiral staircases have the ability to bring the Feng Shui of a building into balance and create a particularly strong visual statement for the entrance of DG Communications new location. Coming close in design on a similar project are stairs by Ong and Ong of Singapore.
Originally commissioned to be finished in a white, semi-matte finish, the 100% high grade aluminum was cut and welded all by hand in Fort Lauderdale, FL. Once Gavin Robin, owner of DG, saw the stairs in progress in their natural aluminum state, UMT was instructed to finish the stairs in the aluminum as opposed to the paint, giving the stairs a truly authentic, modern, industrial feel. The final product makes a beautiful yet practical statement.