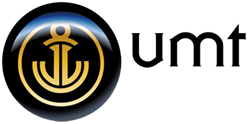 Fort Lauderdale, Florida (PRWEB) June 19, 2014
UMT International introduces its' newest marine product, light weight aluminum sea stairs that are safe and convenient without sacrificing visual appeal.
When shopping for yacht stairs, there are several factors to consider, including function, form and weight. Conditions on the water can pose some unique challenges and UMT's sea stairs are up to the task. With all of these components in mind, UMT International introduces its' newest boarding stairs to the market, Light Weight Aluminum Boarding Stairs.
Based on the designs of UMT's existing Carbon Fiber Sea Stair and Heavy Duty Sea Stair, UMT International now offers the combination of light weight construction for convenience, sturdiness and no pinch design for safety and aesthetically appealing lines in its' newest boarding stairs made from light weight aluminum. The patent pending design of the UMT carbon fiber and aluminum sea stairs stands out amongst the competition, making use of details that make a difference. The material is incredibly light weight for ease of transfer by crew members yet maintains a high degree of sturdiness in order to make the boat boarding process safe and secure. A no pinch mechanism ensures that fingers remain unharmed. The rounded curves of the boarding stairs add a sophisticated and appealing visual touch that set them apart, making a strong impression as one steps aboard.
UMT International builds sea stairs at their headquarters in Fort Lauderdale, Florida USA for clientele worldwide. They also provide installation. UMT International is well known for its commitment to custom crafted marine technology throughout every phase of the fabrication and manufacturing process. Boat owners and professionals in the marine industry have come to expect superior quality from UMT.
Visit UMTMarine.com to see more about boarding stairs, sea stairs and all of the marine products offered by UMT International.