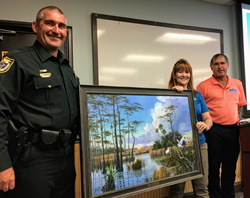 "This is the first year MIACF is honoring marine officers serving the central Florida area," said Joe Lewis. "We believe these officers, who work our waterways and help educate our boaters, largely go unrecognized for the outstanding work that they do."
ORLANDO, Fla. (PRWEB) December 06, 2018
The Marine Industry Association of Central Florida (MIACF) today named Brevard County Sheriff's Department Corporal Travis Fitzgerald as its inaugural Marine Officer of the Year.
"This is the first year MIACF is honoring marine officers serving the central Florida area," said Joe Lewis. "We believe these officers, who work our waterways and help educate our boaters, largely go unrecognized for the outstanding work that they do."
In his nomination letter, Brevard County Sergeant Dennis Casey wrote of Corporal Fitzgerald's knowledge of the local waterways, quick thinking, and superior vessel operation skills. These assets have helped Corporal Fitzgerald save many lives, including a mentally ill man in danger of drowning earlier this year.
Corporal Fitzgerald takes great pride in promoting boating and water safety to children throughout Brevard County. He is often seen with his partner, Bobby the Boat, an interactive robot that teaches the importance of life jackets and how to be safe around the water. His talks are in popular demand at area schools and civic events.
In October of this year, Corporal Fitzgerald was asked to help with the recovery in the aftermath of Hurricane Michael. Within sixteen hours of the initial request, Corporal Fitzgerald was in route to Bay County to assist in the efforts.
In addition to Corporal Fitzgerald, the MIACF recognized the following marine officers from surrounding Central Florida counties:

Master Deputy Gregory Adam Popp, Orange County
Master Deputy Michael Semento, Lake County
Deputy Frank Scofield, Volusia County
ABOUT MIACF
The Marine Industry Association of Central Florida (MIACF) is a non-profit trade association dedicated to the promotion, protection and advancement of recreational boating and industry in Central Florida. For more information, visit http://www.miacf.org/.