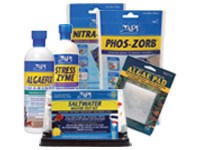 API has included a fantastic assortment of products we truly believe will help aquarium owners overcome their algae problems.
Garden Grove, California (PRWEB) September 30, 2013
Online aquarium store Marine Depot and longtime product innovator API are teaming up this October to offer five lucky aquarium owners an "Ultimate Algae Control Kit" that includes water test kits, filter media, water treatments and an algae scrubber to help win the war against algae.
"Sooner or later, every hobbyist has to deal with nuisance algae in the aquarium," said Ben Ros, MarineDepot.com Director of Operations. "Left unchecked, the nuisance can quickly turn into a plague, leading many saltwater aquarists to start over or leave the hobby all together."
Ros said there is no reason to quit the hobby over algae. While the issue can seem complicated, the general recipe for success is simple.
Scientists at API have pioneered studies on aquarium treatments that have led to significant advances in fish care and have perfected products and solutions for indoor tanks. API is sponsoring Marine Depot's "Ultimate Algae Control Sweepstakes" to help educate hobbyists how to take better care of their wet pets.
"Instead of asking, 'How do I get rid of algae?' The question to ask is 'What causes algae?' Once you know the cause, you can get to the root of the problem," Ros said.
The sweepstakes kicks off October 1 and ends October 31 at midnight PST. There is no purchase necessary to enter for a chance to win. U.S. residents 18-years-old and older simply need to visit MarineDepot.com and sign up for the company's aquarium newsletter during the promo period. Current subscribers are automatically entered into the giveaway. Five winners will be randomly selected and notified via email November 1 that they've won.
Marine Depot created an instructional video on their YouTube channel to explain what each of the seven products in the "Ultimate Algae Control Kit" does and how they can help aquarium owners win the war against algae.
"Algae are the result of a nutrient imbalance. Basically, more nutrients are going into the aquarium than are being removed," said Robert Farnsworth, Marine Depot's Media Coordinator. "These extra nutrients are feeding the algae. The longer the imbalance continues, the more the algae will spread. This is why it is important to first deal with the imbalance."
API is including their Saltwater Liquid Master Test Kit and Phosphate Test Kit so aquarium owners can test the key water parameters that promote algae growth. Once these levels are known, hobbyists can examine their husbandry to determine why more nutrients are going into the system than coming out. It is often as simple as overfeeding or not changing out filter media as necessary.
Aquarium filters help purify tank water and keep it healthy for animals. API is including Bio-Chem Zorb and Phos-Zorb filter media in the prize pack because they remove nutrients and pollutants that contaminate water. Bio-Chem Zorb removes colors, odors, heavy metals and toxic gases plus gets rid of light blocking impurities for improved coral growth in saltwater aquariums. Phos-Zorb eliminates phosphate, one of the leading causes of algae, plus helps to clear cloudy water for a more crystal clear and natural environment.
Here is the complete list of the items included in the "Ultimate Algae Control Sweepstakes" prize pack:
– API Saltwater Liquid Master Test Kit
– API Freshwater/Saltwater Phosphate Test Kit
– API Phos-Zorb
– API Bio-Chem Zorb
– API Algaefix Marine
– API Stress Zyme
– API Hand Held Algae Pad
"API has included a fantastic assortment of products we truly believe will help aquarium owners overcome their algae problems," Farnsworth said. "And we're here to help them every step of the way."
About Marine Depot
MarineDepot.com is the world's #1 supplier of marine and reef aquarium supplies. The company was founded in 1997 by self-professed "fish geek" Ken Wong after he became frustrated by the lack of selection and support provided by many local fish stores. Today, Marine Depot offers over 7,000 popular and hard-to-find products with free technical support provided by a staff of aquarium experts known as the Reef Squad. MarineDepot.com employs 45 full- and part-time employees in Garden Grove, CA. The company was included in the Inc. 500|5000 List of Fastest Growing Businesses in 2011 and is a 3-time Top 500 Internet Retailer and BizRate Circle of Excellence winner.