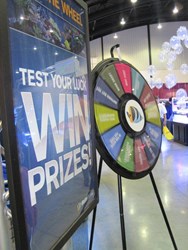 Having a saltwater aquarium in your home is like having a window to the sea.
Costa Mesa, California (PRWEB) August 31, 2013
Online aquarium supply store MarineDepot.com will showcase stylish new aquariums and smart tank technology at the annual Reef-A-Palooza aquarium show on October 12 and 13 at the Orange County Fairgrounds in Costa Mesa, CA.
Now in its 10th year, Reef-A-Palooza has grown into one of the nation's largest aquarium expos. The 2012 show attracted a record number 4,300 attendees, many from out of state, to the two-day event at the Orange County Fair & Exposition Center. Aquarium hobbyists of all levels of experience gather to buy corals, learn new aquaculture techniques and eye the latest and greatest aquarium gear.
"Having a saltwater aquarium in your home is like having a window to the sea," said longtime aquarium owner and Marine Depot Director of Operations, Ben Ros. "Reef-A-Palooza gives us an opportunity to showcase the best of what this hobby has to offer: beautiful fish bursting with personality, colorful corals in otherworldly shapes and textures and cutting-edge equipment designed to make caring for sea life easy and enjoyable."
Ros said Marine Depot will display all-in-one style aquariums not yet available to the public in their booth at the Fall show, including the 6 foot 120 gallon Innovative Marine Nuvo Shallow Reef Series and a frag tank from JBJ designed for growing and propagating corals.
"The greatest benefit of buying an AIO aquarium system is that all of the guesswork has been eliminated," said Ros. "Every piece of equipment has been designed and tested to work together seamlessly. They are ideal tanks for people just entering the hobby. Their ease- of-use allows novice aquarists to focus on maintenance, regular water testing and livestock care so they'll develop good aquarium keeping habits."
Reef-A-Palooza is a perfect venue for people interested in aquariums to see sea life up close and personal. Attendees can also shop, enter to win prizes and learn about new equipment, marine animal husbandry and environmental responsibility.
"Films like Finding Nemo and TV shows like Tanked and Fish Tank Kings inspire countless people to start up their own saltwater aquariums," said David King, Chief Operating Officer for MarineDepot.com. "It's important for our industry to teach newcomers right from wrong and help them separate fact from fiction so they can succeed. It's one of the reasons we love doing these shows."
King said that although aquarium keeping has historically been a hobby more popular among men, the company has recently seen an explosion in site traffic and sales from women. He largely credits the spread of aquarium culture to passionate "reefkeepers" who share their trials and tribulations everyday on social media, which helps advance the collective knowledge of the community.
"It's amazing to see all the young men and women attending Reef-A-Palooza now," King said. "The education and experience of the industry's elder statesman combined with all this youth and diversity has brought powerful energy and innovation into the hobby. It's a progressive time for our industry and the momentum is palpable."
Southern California is one of the most prolific areas in the world for the marine aquarium hobby in terms of retail, supply and demographics. This year's Reef-A-Palooza show is expected to draw more than 4,000 attendees and will feature 80 exhibitors, 6 guest speakers and countless gallons of saltwater. Admission to the event is $10 for adults and $5 for seniors 60 and over; children 12 and under enter free.
"Being the steward of your own coral reef is extremely rewarding," said Ken Wong, Marine Depot's Chief Executive Officer. "After you create an undersea environment and care for a cast of colorful creatures, you better understand the beauty and fragility of life. It leaves you with a sense of awe and appreciation for nature, inside your aquarium and each day when you step out into the world."
About Marine Depot
MarineDepot.com is the world's #1 supplier of marine and reef aquarium supplies. The company was founded in 1997 by self-professed "fish geek" Ken Wong after he became frustrated by the lack of selection and support provided by many local fish stores. Today, Marine Depot offers over 7,000 popular and hard-to-find products with free technical support provided by a staff of aquarium experts known as the Reef Squad. MarineDepot.com employs 45 full- and part-time employees in Garden Grove, CA. The company was included in the Inc. 500|5000 List of Fastest Growing Businesses in 2011 and is a 3-time Top 500 Internet Retailer and BizRate Circle of Excellence winner.
###